Sudanese police rescued nearly 100 people last month after breaking up a human trafficking and migrant smuggling operating in the nation's capital Khartoum, Interpol said on Monday.
Twelve women and two men were arrested by police. Around $20,000 was also seized during the operation, which honed in on several locations across the Sudanese capital.
Out of 94 victims, 85 of them were minors. Many of them were coerced into intensive labor, including working in gold mines east of Khartoum.
"One consistent aspect arising from our operations against human trafficking is the abuse of the inherent vulnerability of the victims, and perilous conditions they are made to work in for profit," said Tim Morris, who heads Interpol's police services.
Read more: Is the EU putting African migrants at risk?
'Transnational problem'
Interpol, which helped train Sudanese officers to investigate human trafficking, said a majority of the victims came from six African countries, including Chad, Eritrea, Niger, the Democratic Republic of Congo (DRC) and South Sudan.
"The diversity of nationalities among those rescued shows how human trafficking and people smuggling is a truly transnational problem which requires a coordinated international response in which police and stakeholders share information and best practices," Morris said.
Some countries have criticized Sudan for not doing enough to combat human trafficking and migrant smuggling in the country.
Read more: Modern slavery in Germany: Preying on the vulnerable
Failing to tackle problem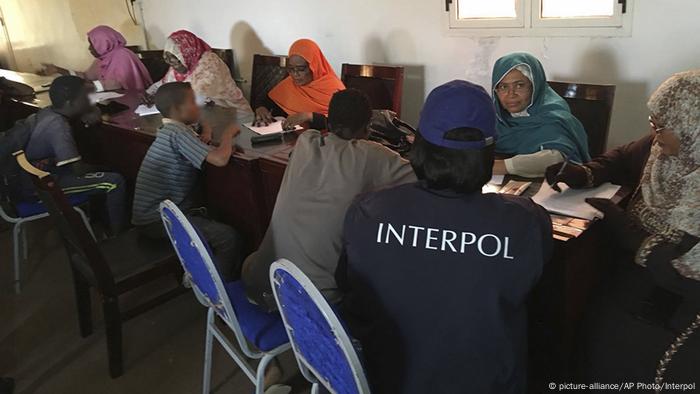 The children were as young as 10 and were forced to handle mercury and cyanide
In its 2017 report on human trafficking around the world, the US State Department accused the Sudanese government of failing to tackle human trafficking, including denying the existence of sex trafficking of adults and children.
"Officials routinely conflated trafficking with other crimes, such as smuggling or immigration violations, and authorities continued to punish some trafficking victims for unlawful acts committed as a direct result of being subjected to trafficking," the State Department added.
Read more: UNICEF: Number of unaccompanied refugee children reaches 'record high'
"The government lacked capacity and resources to provide adequate protective services to victims." It is unclear whether those rescued in the operation would eventually be returned to their home countries.
According to Sudanese authorities, the country's Child Protection Union would provide immediate aid, while the Social Affairs Ministry would manage further assistance.
ls/rc (AP, AFP)
Each evening at 1830 UTC, DW's editors send out a selection of the day's hard news and quality feature journalism. You can sign up to receive it directly here.