France and Germany have lodged a suggestion with the Organization for Security and Cooperation in Europe (OSCE), offering to monitor Ukraine's border with Russia using drone aircraft.
Foreign Minister Frank-Walter Steinmeier made the announcement in Berlin on Friday, following talks with visiting Ukrainian Foreign Minister Pavlo Klimkin, but was keen to stress that the idea was in its most preliminary stages.
"We are now waiting on reactions not just from the OSCE itself, but above all else from the member countries," Steinmeier said, seemingly indicating OSCE member Russia. "I don't want to make any secret of the fact that political and legal questions on this matter still need to be answered."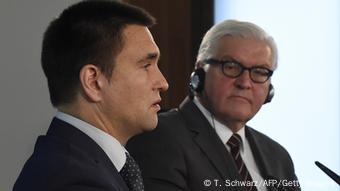 Steinmeier and Klimkin met in Berlin, with Ukraine due to vote later this month
Klimkin said that he hoped the operation would be approved soon.
Steinmeier said that an "armed escort" for the teams operating the unmanned aircraft would be required if the mission were to go ahead, saying both Berlin and Paris had made this clear when suggesting the deployment to the OSCE. Such a mission would require the approval of the interim government in Kyiv and all 57 members of the OSCE, including Russia.
The Social Democrat politician said Germany was prepared to dispatch two drones, if the mission were approved. "How many the French can make available will be a decision for France itself," he said.
Merkel: ceasefire must hold first
The OSCE has been leading the attempts at a diplomatic solution in Ukraine, chairing the talks that led to the somewhat shaky ceasefire signed last month. The organization is trying to acquire its own civilian drone aircraft, although these are not expected to suffice to monitor the border.
German Chancellor Angela Merkel has also offered support for a drone monitoring mission, saying it is conceivable once the fighting in eastern Ukraine dies down.
"They could be one element of a better monitoring system," Merkel said of the drone aircraft. "But the condition for all of this is obviously that the ceasefire holds." The German chancellor pointed to recent clashes between the army and pro-Russian separatists - with each side blaming the other - as an indication that the ceasefire was not holding completely.
Repeated reports of equipment, weaponry and fighters coming across the border into Ukraine to aid the separatists helped prompt the suggestions for unarmed aircraft monitoring the border crossings. The UN estimated on Wednesday that, since the ceasefire was signed, at least 331 people had died in fighting in eastern Ukraine. A German aid convoy carrying winter goods arrived in the country on Tuesday.
msh/jr (dpa, Reuters)