In a bid to lift his Social Democratic Party's (SPD) flagging election campaign, Steinmeier on Monday outlined plans for creating new jobs in the renewable energy, healthcare and services industries.
"Creating four million new jobs by 2020 is realistic and many economic experts consider the target possible," Steinmeier said in a keynote speech in Berlin.
"Naturally the state isn't going to be creating these new jobs but it can set up the right framework for a sensible economic development."
Speaking to reporters, Steinmeier said: "These are not just a bunch of dodgy promises."
Critics attack plan
The foreign minister and deputy chancellor, who's heading the SPD's ticket in parliamentary elections on September 27, has been attacked by his political rivals for what they say are unrealistic plans and a headline-grabbing ploy to detract from his floundering campaign.

Alexander Dobrindt, secretary general of the conservative Bavarian-only Christian Social Union (CSU), said Steinmeier was recreating a planned economy reminiscent of communist East Germany with his "10-year plan."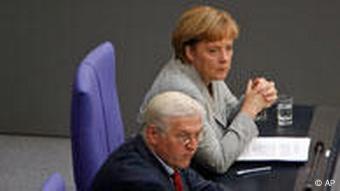 Steinmeier, left, is facing off with Chancellor Merkel in national elections next month
Dirk Niebel, secretary general of the Free Democratic Party (FDP), with which Merkel's CDU hopes to form an alliance, described Steinmeier's promise as "an act of desperation" as the SPD seeks to regain lost ground just weeks before the election.
Industry leaders have also slammed Steinmeier's plans.
Wolfgang Franz, head of the so-called council of wise men, a government-appointed group of economic experts, told Bild newspaper that Steinmeier could only create an employment-friendly framework as chancellor, but the jobs themselves could only be created by private industries.
The SPD is currently lagging about 10 percentage points behind Chancellor Angela Merkel's CDU, in opinion polls.
Steinmeier sticks to plans
But Steinmeier on Monday insisted that his "Germany plan" can create jobs in sectors that reduce energy consumption and save natural resources - along with other green tech areas such as "electro-mobility."
He said further jobs were possible in the healthcare sector, particularly in the care of the elderly.
"It's realistic and ambitious - and it's a way to go beyond all the abstract talk about the economic crisis," Steinmeier said.

Steinmeier's pledge to create four million new jobs comes at a time when economists are predicting that the global economic downturn will push the number of jobless in Germany to four million by the end of the year, and to five million by 2011.

sp/Reuters/dpa
Editor: Susan Houlton