The Dutch Defense Ministry sought the Supreme Court's intervention Wednesday, saying it did not understand how a lower Hague Appeals Court had reached its verdict in June.
That verdictupheld a previous 2014 court ruling that the Netherlands should pay compensation to the families of the 350 Muslims who sought shelter at a UN base with Dutch peacekeepers but ended up among 8,000 men and boys killed by Bosnian Serb forces.
Ministry spokesman Klaas Meijer described the appeal ruling as "incomprehensible," saying the Dutch state would go "against this judgment."
The Supreme Court can only overturn the previous ruling if it finds that the lower appeals court erred in law or procedure.
If so, a new trial would reopen before Dutch courts one of the blackest pages in the Netherlands' history.
'Mission impossible'
In 2002, the-then Dutch government resigned after acknowledging the Netherlands' failure to protect refugees but said its peacekeepers had been on a "mission impossible."
At Srebrenica in 1995, overwhelmed Dutch troops first shut the gates to new arrivals at their base located in a supposed UN safe zone.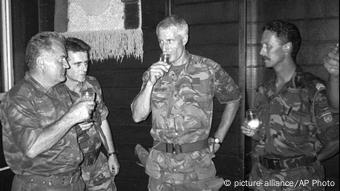 Mladic with a Dutch commander after Srebenica's capture
As out-gunned peacekeepers looked on, Bosnian-Serbs separated out men and boys, drove them in buses to their deaths, and dumped their bodies in mass graves.
'Must have known'
In June, Dutch appeals judge Gepke Dulek-Schermers said the Dutch soldiers must have known that the men "were not only being screened … but were in real danger of being subjected to torture and execution."
At the UN former Yugoslav tribunal in The Hague, former Bosnian Serb military commander, General Radko Mladic, is currently on trial. A verdict is due in November.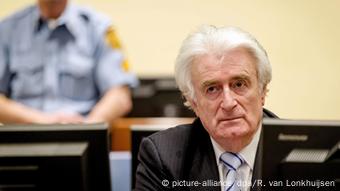 Karadzic on trial in The Hague
Already serving a 40-year prison term is former Bosnian-Serb leader Radovan Karadzic on convictions of genocide.
States participating in UN peacekeeping operations have rarely faced legal action over their performance, making the Dutch case highly unusual.
ipj/sms (Reuters, AFP)