State prosecutors on Friday filed charges against the regional leader in Catalonia, Artur Mas, the latest chapter in the fallout from last month's symbolic independence referendum, which was conducted despite a court injunction.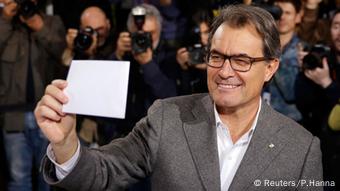 Mas sought to water down the referendum to rule out legal action, but prosecutors saw matters differently
Mas, his deputy Joana Ortega and the Catalan government's education minister, Irene Rigau, will face charges of civil disobedience, abuse of power, usurpation of duties, and embezzlement of public funds, the public prosecutor's office said in a statement.
Prosecutors in Madrid had confirmed on Wednesday that they would seek charges, without specifying which, after Catalan prosecutors rejected launching a suit on the issue. On Thursday, Mas said at a news conference that he found the decision "very disappointing."
"It is sad to see that when the Catalan people want to express their opinion … the reaction of the state comes from the courts and prosecutors," he said.
Watered down, but completed
Mas' regional government had initially planned a binding referendum on secession from Spain; as citizens basked in the afterglow of Scotland's highly publicized, narrow "no" in a vote on leaving the United Kingdom.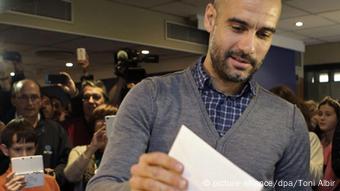 Bayern Munich coach Pep Guardiola was eligible to head home and vote as a 'Catalan abroad'
After a legal challenge against the binding referendum, Mas announced a non-binding, symbolic vote for November 9. However, the Constitutional Court called for this vote to also be delayed, so that it could examine its legality; the ballot went ahead.
Estimates on the total eligible electorate - all Catalan residents over 16 including non-Spanish citizens, plus Spanish citizens living abroad who could demonstrate Catalan heritage - ranged from 5.4 to 6.3 million people, but fewer than half of them turned out for the non-binding ballot. Catalan government figures put turnout at 2.3 million, with 80 percent of them voting for Catalonia to become a fully independent country.
What Mas hailed as a "total success" in the Catalan capital Barcelona, was decried in Madrid by Prime Minister Mariano Rajoy as a "deep failure," to which "two out of three Catalans paid no attention."
Catalonia is Spain's wealthiest and second most populous region, home to some of the country's largest companies. Longstanding calls for independence gathered pace in recent years, fueled in no small part by Spain's economic difficulties and high unemployment; Scotland's September referendum added volume to the calls as well.
Disgruntled Catalans often argue that the state contributes a disproportionate amount in taxes considering investments in the region, and at the central government meddles in its linguistic and education policy.
msh/se (AFP, AP, Reuters)