Spain's National Court has sentenced three members of Basque militant separatist group ETA to prison for their involvement in a car park bombing at a Madrid airport in 2006. The attack killed two Ecuadorian immigrants and injured more than 40 other people.
Mattin Sarasola, Mikel San Sebastian and Igor Portu were each handed jail sentences of 1,040 years, and were also ordered to pay a total of 1.2 million euros ($1.5 million) in damages to the families of the Ecuadorians.
Portu and Sarasola were arrested in January 2008, while San Sebastian was captured about six weeks later in southwestern France.
ETA's former military head, Garikoitz Aspiazu Rubina, who was also arrested in 2008, is set to stand trial at a later date for allegedly masterminding the whole attack.
The bombing put an end to dialogue between the separatist group and the government of Spanish Prime Minister Jose Luis Rodriguez Zapatero, talks which had been launched six months earlier.
Group weakened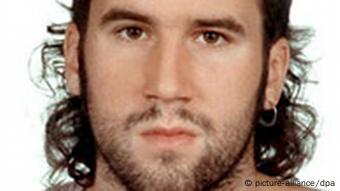 ETA's former military head Garikoitz Aspiazu Rubina will soon face trial for the airport attack
The verdicts follow the arrest of three more suspected ETA members in France on Thursday. Those detained included the chief of ETA's military operations and Spain's most wanted man, Mikel Carrera, as well as his second in command and France's most wanted man, Arkaitz Agirregabiria.
Agirregabiria is the main suspect in the murder of a French police officer in March.
Recently, the group's organizational body has been hard hit. French and Spanish police claim to have arrested 11 senior members of the group in the past decade. In February, ETA's political wing made a historic call to end the use of violence and solve political conflicts through dialogue and the democratic process.
The Spanish government has maintained that a permanent ceasefire must be established before any further talks take place. Spanish Interior Minister Alfredo Perez Rubalcaba said political parties sympathetic to ETA must choose between "bombs or votes."
ETA, which is listed as a terrorist organization by the European Union and the United States, has killed over 820 people in its campaign for an independent Basque state since 1968.
mk/AFP/dpa/AP
Editor: Martin Kuebler