About one million people took to the streets of Barcelona to demand Catalan independence from Madrid on Tuesday, marking the region's "Diada" anniversary when Barcelona fell to Spain in 1714.
The wealthy northeastern region is split roughly down the middle on independence from Spain, according to a July poll by the regional government's official public opinion center.
Read more: Catalan leader pressures Spain to recognize independence
Divisive day:
Since 2012, Catalan separatists have used September 11 as a day to rally support for their cause.
The Tuesday rally marks the first of its kind since last year's controversial independence referendum on October 1.
Organizers said they wanted to bring momentum to the separatist movement and push for the release of "political prisoners:" Catalan politicians who were arrested for their involvement in the illegal referendum.
Some have criticized separatists for repurposing the holiday, arguing they have transformed it into an exclusive event for the independence cause.
Read more: In Catalonia, language and identity go hand in hand
'No clear message'
Quim Torra, who leads the Catalan regional government, noted that while independence is a priority, he will be putting his efforts into highlighting the plight of political prisoners, saying: "I will not accept sentences and I will appeal to all free-minded citizens to not accept them either."
Oriol Bartomeus, a politics professor at the Autonomous University of Barlcelona, told AFP news agency that although separatists will "show they are the most organized political force" in the region, they have "no clear message."
Barcelona-born Albert Rivera, who leads the business-friendly party Ciudadanos, took to Twitter to criticize organizers, saying in a Catalan-language tweet: "The Diada should be an autonomous celebration for all Catalans, but the nationalists have hijacked it and turned it into a day of exclusion, hatred and an attack on Spain."
What happened? Last year, Madrid imposed direct rule after the Catalan government orchestrated an independence referendum, which was outlawed by Spain's supreme court prior to the vote. Elections in December brought separatist parties back to power, but internal feuding has prevented them from moving forward on their independence cause.
More autonomy: Spanish Prime Minister Pedro Sanchez has offered the regional government the ability to hold a referendum on more autonomy, but Catalan leader Torra has rejected the idea, arguing the region deserves a legally binding vote on leaving Spain.
What next? Torra has attempted to drum up support for another show of force on October 1, the first anniversary of the controversial Catalan independence vote.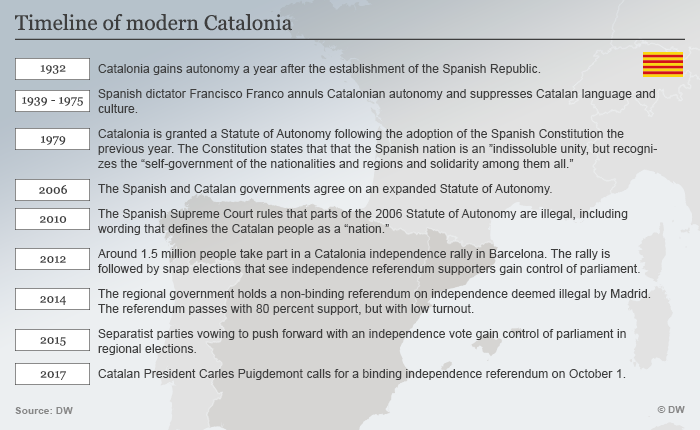 ls/aw (Reuters, AFP, AP)
Each evening at 1830 UTC, DW's editors send out a selection of the day's hard news and quality feature journalism. You can sign up to receive it directly here.