Interpol members elected South Korea's Kim Jong Yang as the organization's new president on Wednesday, voting against a Russia-backed front-runner in the race.
Kim was the organization's acting president, a role he took on in September after Interpol's previous chief, Meng Hongwei, went missing in China.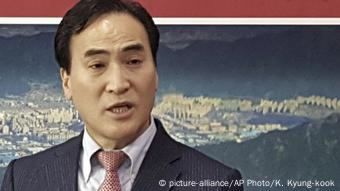 Kim needed at least two thirds of the votes cast at the Interpol general assembly
Chinese authorities said Meng had been detained on corruption charges. He supposedly resigned from his role in absentia.
Kim was elected in Dubai during Interpol's annual general assembly. He will preside over the organization until the end of Meng's term in 2020.
According to a tweet on Interpol's account, Kim told the general assembly in Dubai: "Our world is now facing unprecedented changes which present huge challenges to public security and safety."
"To overcome them, we need a clear vision: we need to build a bridge to the future," he said.
A win over Russia's controversial candidacy
The candidacy of Interpol's vice president Alexander Prokopchuk, who was also a general in Russia's interior ministry, had led many international critics to call upon Interpol not to promote him, as his closeness to Russian President Vladimir Putin was seen as a threat to the organization.
Interpol members who have tense relations with Russia, including Ukraine, Lithuania and Estonia, as well as US senators and Russian opposition groups, had warned that choosing Prokopchuk could have led to Russia abusing Interpol to go after political opponents and dissidents.
The Kremlin on Wednesday criticized the "strong pressure" applied against Prokopchuk's candidacy.
According to Russian news agencies, spokesman Dmitry Peskov told reporters the Kremlin was of course "sorry our candidate has not won."
"Strong pressure was exerted if you impartially look at a number of statements from a number of countries on the eve of the vote," he said.
Ukraine, which had threatened to leave Interpol if Prokopchuk were voted into the president's office, welcomed Kim's election. The country's interior minister called the vote's outcome a victory for his country.

Risk of 'red notice' abuse
Interpol, which is headquartered in the French city of Lyon, is known for issuing "red notices" that alert its member states to suspects being pursued by another country. The system essentially serves as a list of the world's "most wanted" suspects.
While critics had feared the election of Prokopchuk could lead to this system being abused, human rights groups had raised the same alarm two years ago after China's Meng was chosen as president.
Amnesty International had criticized "China's longstanding practice of trying to use Interpol to arrest dissidents and refugees abroad."
gs/sms (dpa, AP, AFP)