A court in Seoul on Tuesday sentenced Choi Soon-sil, a confidante of former South Korean leader Park Geun-hye, to 20 years in jail after she was found guilty of abuse of power and receiving bribes from South Korean conglomerates, including Samsung and the Lotte Group.
Choi, who is known to have wielded considerable influence in the government even though she held no official position, was accused of collaborating with Park, who is facing almost similar corruption charges in a separate trial.
Park, who was removed from office last March after becoming the first Korean president to be impeached, denies any wrongdoing in the influence-peddling scandal that rocked the country's business and political establishment.
Read more: Opinion: South Korea needs courage to undertake reforms
Reading out the verdict, the judge said Park "abandoned constitutionally-given responsibility and gave position and power to others" and that Choi used her position "to monopolize state business and seek personal gain."
Choi's lawyer, Lee Kyung-jae, said she would appeal the verdict, saying he was concerned that his client's "severely heavy sentence" came from "the judges forming their impressions straight from the prosecution's arguments."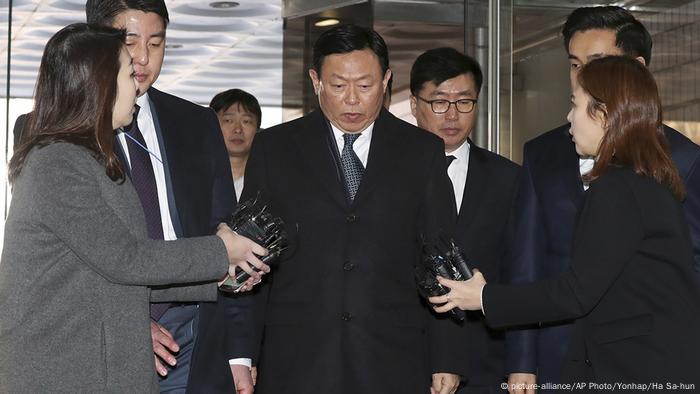 Shin dong-bin, who was present in the courtroom at the time of the verdict, was taken into custody.
Lotte boss arrested
The court also ordered the immediate arrest of Shin Dong-bin, the chairman of Lotte, the country's fifth-largest conglomerate, after sentencing him to 30 months in prison on Tuesday.
Shin, who was present in the courtroom at the time of the verdict, was taken into custody.
He was accused of giving a foundation backed by Park and Choi 7 billion won (€5.2 million, $6.5 million) for favors such as a duty free store license, a charge that he denied.
Lotte said its chairman's conviction was "unexpected" and could affect the public listing plans of the retail giant's Hotel Lotte unit.
"The situation was unexpected and we are in despair. We respect the court's decision, but the result is very regrettable." Lotte said in a statement.
Samsung connection
Tuesday's verdict comes just days after an appeals court freed Samsung scion Lee Jae-yong after a year in jail.
Lee was accused of giving some of the bribes that Choi was charged with receiving.
Read more: Will Samsung survive heir Lee Jae-yong jail sentence?
But the appeals court last week said Lee's bribe-giving was a "passive compliance to political power," hinting at a wrongdoing on the part of Park and Choi.
Park is currently in prison. A verdict in her trial is expected before her detention period ends in April.
ap/rc (Reuters, AP, AFP)