Zuma made the announcement through a televised statement after agreeing to meet with student leaders and university management on Friday, as thousands of protesters gathered in front of the main government building in the capital Pretoria.
"Government understands the difficulty faced by students from poor households, and urges all affected to allow the process to unfold to find long-term solutions in order to ensure access to education," Zuma said.
Zuma's announcement did not go far enough for some students, who questioned if rates would go up after 2016. Some demanded free education, while others claimed victory.
Zuma had been scheduled to address the students directly, but security officials deemed it unsafe as police fired occasional stun grenades at protesters throwing rocks and seeking to cross barricades.
The protests are some of the biggest to rock the governing African National Congress (ANC) since it came to power almost 25 years ago after the end of apartheid.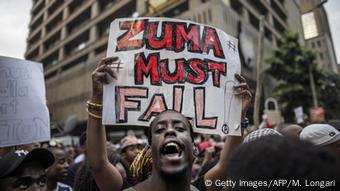 Students started protesting last week after the government proposed up to an 11.5-percent hike in tuition rates in 2016. The news kicked off daily protests in Johannesburg, Pretoria, Cape Town and other provincial universities, which quickly spilled off campus.
On Wednesday, student protesters forced their way in front of Cape Town's parliament complex in an attempt to disrupt Finance Minister Nhlanhla Nene's reading of the interim government budget.
The protests are led by a new generation of South Africans with little recollection of the anti-apartheid struggle to end white rule. After 25 years of black rule many still suffer from poverty, limited job prospects and poor services.
The racial and inequality legacies of apartheid remain a facet of everyday life, while many South Africans are increasingly unhappy with the new ruling elite and widespread corruption.
Average South African university tuition varies but can run up to several thousand dollars per year - the University of Cape Town's is $3,400 (3,087 euro). When combined with transportation, accommodation, food and other expenses the cost makes it nearly impossible for the nearly 50 percent of the population living below the poverty line to afford higher education. Average income in South Africa is about $6,800 per year (6,172 euro).
cw/msh (AFP, AP)