New South African President Cyril Ramaphosa told parliament on Tuesday it was time to implement resolutions on the conduct of lifestyle audits of all people who occupy positions of responsibility — starting with members of the executive.
"The work we must undertake to tackle corruption and state capture has, quite correctly, featured prominently in the debate," Ramaphosa said as he addressed the assembly.
The ruling African National Congress (ANC) issued a 5-point commitment on the issue of corruption and what has become known as state capture. The ruling party urged professional bodies and regulatory authorities to take action against "members who are found to have acted improperly and unethically." It called for a quick start to the inquiry into state capture and to continue to investigate and prosecute "any and all acts of corruption."
Marikana darkest moment
The new president also addressed the August 2012shootings of 34 mineworkers by police during a strike at the Marikana platinum mine operated by the UK-registered Lonmin mining company. Ramaphosa was a non-executive director of Lonmin at the time.
He said on Tuesday that the government had failed the people and that it was important to admit failures and take steps to redress them.
"The Marikana tragedy was the darkest moment in our young democracy," Ramaphosa told parliament. "Notwithstanding the findings of the Farlam commission on my responsibility for the events that unfolded, I am determined to play whatever role I can in the process of healing and atonement for what happened at Marikana."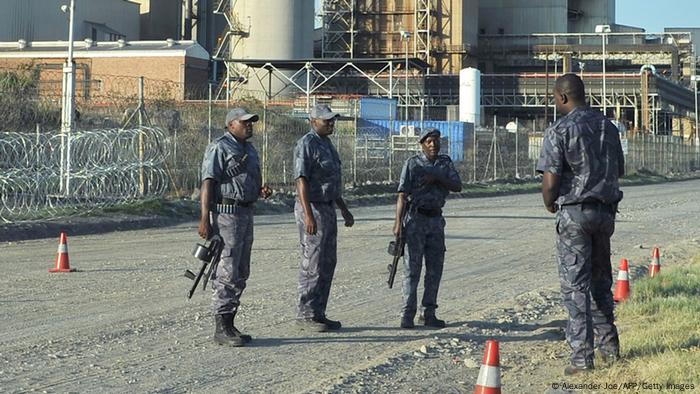 Security officers at the Lonmin Marikana mine in January 2014
Economic and financial renewal
Ramaphosa said he wanted to build consensus and partnerships in rebuilding the economy: "I would like to have the best companies in the country, continent and the world to make commitments on investments that are going to create jobs for our people."
The president again mentioned land expropriation but said he would not allow "smash and grab" interventions to take land without compensation. He said it should be done in a way that improves food security and agricultural output. Most of the land in South Africa is in the hands of white owners.
Ramaphosa, who was sworn in last Thursday after his scandal-hit predecessor Jacob Zuma resigned, has not yet announced his cabinet. Media reports suggest former finance ministers Nhlanhla Nene, who was sacked by former President Jacob Zuma in 2015 or Pravin Gordhan and his deputy Mcebisi Jonas, who were sacked in March last year, may return.
jm/rt (Reuters, AFP)