International leaders have gathered in London to discuss how to help drought-stricken Somalia, a country that's on the verge of a deep humanitarian crisis. The east African nation has been plagued by famine and conflict, with Islamist group Al-Shabab terrorizing the country.
The one-day conference co-chaired by Somalia's new President Mohamed Abdullahi Mohamed, United Nations Secretary-General Antonio Guterres and British Prime Minister Theresa May aims to secure funding to combat hunger and help rebuild the country. The UN says it needs $900 million (830 million euros) in aid this year.
Germany has already pledged to double its aid to about 140 million euros.
Around 40 delegations from countries and international institutions such as the World Bank, the International Monetary Fund and the League of Arab States, as well as EU foreign affairs chief Federica Mogherini and US Defence Secretary James Mattis, are attending.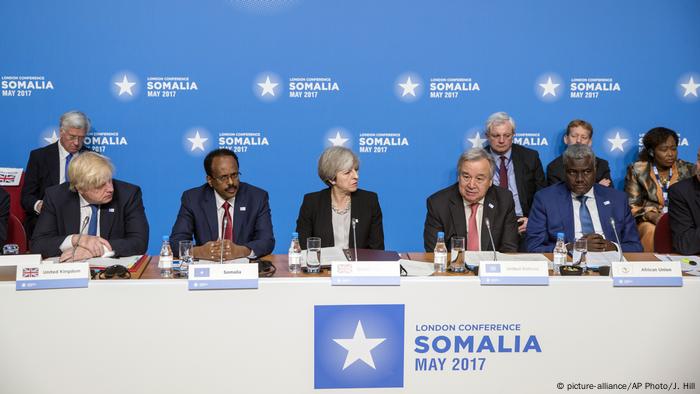 Somalia's President Mohamed Abdullahi Mohamed (2nd from left) was in London for talks with international donors
The UN has warned some 1.4 million children are facing acute malnourishment in the drought-stricken country. More than six million people are facing food insecurity.
"I will spare no effort to realize the promise of my campaign which was to fight Somalia's three raging enemies: terrorism, corruption and poverty," Somalia's president, widely known by his nickname Farmajo, said in London.
'Last chance' to stop humanitarian crisis
It's high time to act to avert a catastrophe like the 2011 famine that killed 250,000 people, says German NGO Diakonie Katastrophenhilfe.
"This is the last chance for the international community to stop risking hundreds of thousands of lives," said the organization's president, Cornelia Füllkrug-Weitzel.
"There has to be quick, determined and extensive action now to compensate for previous neglect," she added.
That statement is echoed by Ahmed Mohamed, who heads the NGO SOS Children's Villages in Somalia. "75 percent of cattle are already dead, wells have dried up, there are carcasses everywhere," he said. "People drink dirty water so that they don't die of thirst."
Solutions for Somalia?
In order to end the country's 25 years of conflict, Farmajo and his government need to tackle corruption, restart the national reconciliation process and promote dialogue among federal states to solve territorial- and resource-driven conflicts, among other things, according to the International Crisis Group.
However, some are skeptical whether the conference can indeed solve Somalia's many problems.
"We have a conference with new international actors, [British Foreign Secretary] Boris Johnson, [Germany's] Minister for Foreign Affairs, Sigmar Gabriel, the US defense secretary [James Mattis] - there are new actors, however, we have the Somalia crisis which is in fact neither new nor unforeseen, it was predicted for about a year," said former UN envoy to Sudan, Peter Schumann, who closely follows developments in Somalia.
"I'm very skeptical that these new actors at the conference from the international level will come up with a political approach to the crisis," he added.
While Schumann hopes the conference willsecure enough money to deliver food relief for the people of Somalia, he doesn't believe it will be enough to solve the country's manifold problems.
"I'm very concerned about the mixture of throwing everything into a drought relief [conference] with a little bit of politics around it," Schumann said.
"I don't think this conference will bring us anywhere closer to resolving the complexities of the Somalia crisis."
Fighting al-Shabab
Farmajo, who was elected in February and also holds US citizenship, has repeatedly said he will defeat al-Shabab within the next two years.
That's "wishful thinking," according to Schumann. "I don't know how he wants to do this. We have a 20,000-man strong AU/EU-sponsored force, we have attacks by US drones, they have killed a high-ranking al-Shabab official, there was an amnesty announced, there were all sorts of things. I don't see a military solution," he told DW.
According to the International Crisis Group, the Somali government should try to persuade less hard-line al-Shabab fighters to abandon the jihad. Somalia's partners should signal they will not veto such an initiative, the think tank advises.
However, that's unlikely to happen, according to Schumann.
"They have to sit down and negotiate and find an agreement, but I think this will largely be prevented by the international powers. The US government is clearly aiming at a military solution," he said.