During his stretch of almost 10 consecutive years in United States prisons, David Andrade spent more than half of his days in the dark. Frequent punishment for crimes Andrade committed behind bars included 24-hour lockdowns. Infractions included helping to ignite a prison riot, beating up fellow inmates and punching a correctional officer.

He is now one of hundreds of former gang members finding his place in the sun through the solar industry. But if you trace Andrade's beginnings, there wasn't always much light.

"I had a lot of hate," says the 32-year-old.

Hate fueled by a father who left him at age 2, and from a mother he describes as an alcoholic, a drug addict and a gang member.
At the age of 13, he found comfort and family in a violent street gang in East Los Angeles. By 15, he says he was a full-blown alcoholic. Three years later, his life of crime caught up with him. He served a few months in jail for assault.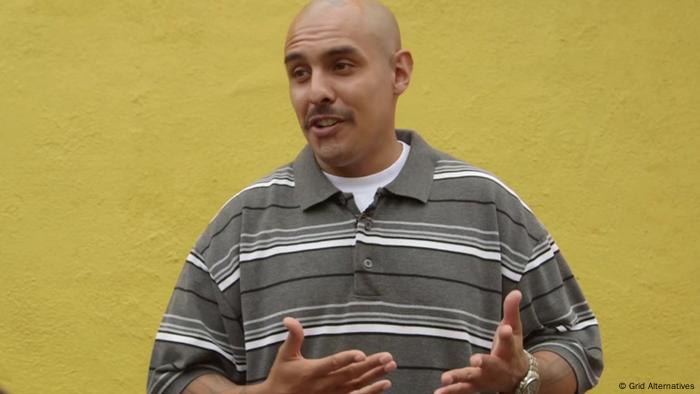 David Andrade has turned his life around
He had been barely out of jail for two weeks when he stood on an LA street corner and lifted his shirt to show a passing bald, tattooed man the gun he had tucked in his waistband.
That man turned out to be an off-duty police officer. In the end, Andrade was looking at a sentence of almost 60 years. He says he "beat his case" - and in part, he did. Nonetheless, he still ended up spending almost 10 years behind bars.
Homeboy is my homeboy
When he was released in 2013, on the bus ride home, Andrade vowed to go straight. He had made this pledge in the past, but had failed to live up to it. This time, however, he found an organization that truly had his back.
Homeboy Industries bills itself as the largest gang rehabilitation, intervention and re-entry program in the world. More than 10,000 former LA gang members turn to the organization every year in search of a second chance.
It was started by a Jesuit priest who wanted to offer hope, compassion and alternatives to gang life and prison. Overall, the chances of success for former inmates on the outside are slim.
A study by the Advancement Project of LA County's juvenile delinquency system, published two years ago, found that one-third of probationers are rearrested within a year of release.
Seeing the light
Andrade believes his stay-out-of-prison pass is Homeboy's solar panel installation program. Due to the isolation he experienced while on the inside, when he got out, he was baffled at the sight of solar modules on rooftops around LA neighborhoods.
"I would see it everywhere," says Andrade, who joined the program shortly after he was released. He says he didn't know exactly what he'd signed up for - but he caught on fast. "I graduated at the top of my class," he says proudly.
After graduation, the student became the teacher. Andrade was promoted to supervise the solar project at Homeboy Industries.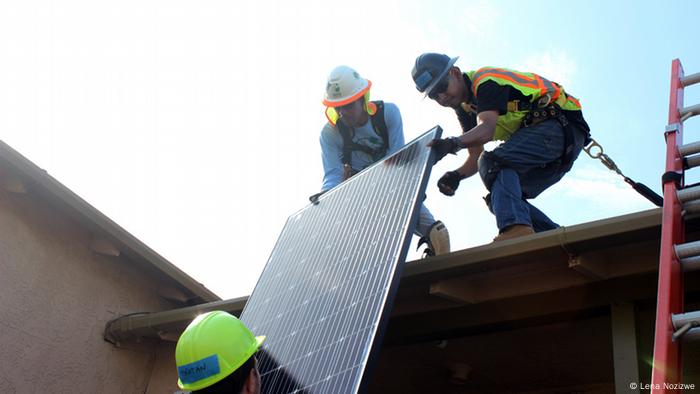 The growing interest in solar power means there is plenty of work to go round, which is good news for those looking for a new start
So far almost a thousand gang members have taken part in the four-month program. And more than 90 percent of students graduate from the nonprofit. Moreover, almost three-quarters of graduates find jobs within three months.
Bright future
Harnessing the sun is a growth industry. The US Department of Energy says more people had jobs in solar power last year than in coal, gas and oil energy combined. And no one is a bigger advocate than Andrade.
"There is honestly no future in what I was doing back then. Let's go with the times: It's solar energy, renewable energy. No one is charging for using the sun. Let's get trained to use it in a positive way," he says.
He has now progressed to a new job with Grid Alternatives, the largest nonprofit solar installer in the United States.
Grid Alternatives makes a point of giving opportunities to women, and Homeboy Industries students and graduates. Last year, the organization set up free solar systems for more than 1,300 fixed- and low-income California families.
"We'd like to see a solar industry that includes everyone, especially people whom society has not provided full advantages to in the past," says Danny Hom, the development and communications coordinator for Grid Alternatives.
Total transformation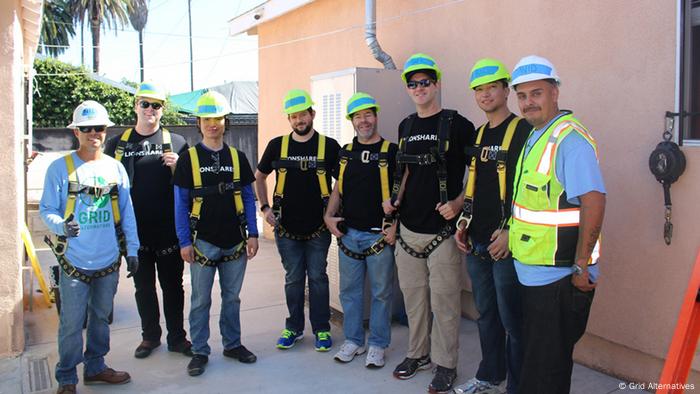 The solar panel installation team - a gang with bright futures
Homeowner Hazel Patterson stands on her well-manicured lawn as Andrade and about a half dozen volunteers and workers climb up and down a ladder propped against her facade.
As one of those to benefit from Grid Alternatives' socially minded project, she is looking forward to saving as much as 80 percent on her electricity bills.
Patterson also understands how the way thesolar panels are installed can be lifesaving.
"I really believe in second chances - I know how that goes. I had a grandson who made mistakes at 17 years old. I thank God that he had a second chance when he was young."
"It's great they are giving young people a chance to better their lives."
Watching Andrade at work on Patterson's property, there are few visible remnants of his past life. Thanks to Homeboy Industries, even a gang tattoo stamped on his face in prison has all but been removed.
The transformational power of the sun is in brilliant evidence.