Though many nine-year-old girls might spend their weekends playing Pokémon or hosting a doll's tea party, that is not what Nashley Talbert does in her free time.
One of her main interests is water. More specifically the color of the water that runs out of her faucets in the Jordan Downs public housing project in the LA district of Watts.
The complex, which is home to 2,700 people, was featured in the legendary 1990s hood drama movie "Menace II Society." Today, residents live in an environment they believe to be a menace to their health.
"My water sometimes looks so dirty. It's not clear. It has black stuff and yellow stuff," Nashley said.
And she is not the only one to make that observation. The preliminary findings of a Jordan Down Public Housing community study revealed almost 90 percent of participants have experienced brown, rusty, or murky water flowing from their taps.
The report, conducted by the Jordan Downs Environmental Justice Coalition and the Harbor UCLA Medical Center, also revealed that 95 percent of the 80 households involved regard their tap water as unsafe to drink.
How safe is safe?
Jonathan Leung, the managing water quality engineer for the Los Angeles Department of Water and Power, described the report as a "wake-up call."
"We need to do better," he told DW, before adding that although the color of the water might have "an impact on aesthetics," this doesn't necessarily mean an "adverse impact to public health."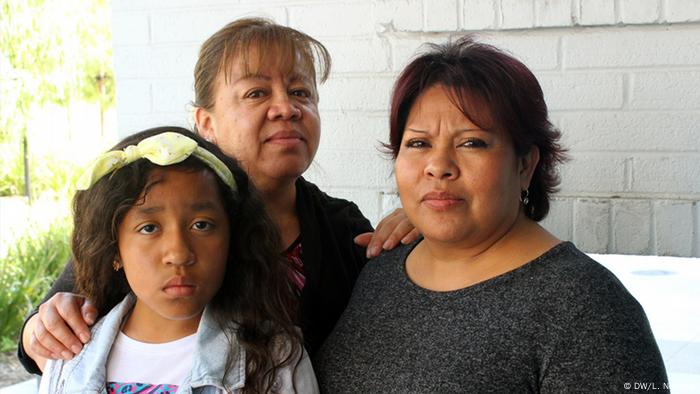 Nashley Talbert with her activist mother and aunt, Lety Talbert and Patricia Morales
But such assurances are not enough to convince Nashley or her mother Lety, who says she never drinks tap water, preferring instead to buy it in bottles. At $100 (89 euros) a month, that eats into her budget. But she doesn't want to risk her family's well-being.
Concern over heavy metals
Indeed, worries about health are what took Nashley, Lety and her sister Patricia Morales to the Jordan Downs Health Summit at the local high school.
They were joined by local doctor, Jyoti Puvvula - who is shocked by the report.
"Resident after resident (again these are preliminary findings) said they would have to leave [the tap] on for hours. Some people said days. Some people said it never clears. So that's really concerning," she told DW.
The main worry is that the water could contain lead. Leung, however, says extensive testing in 2016 traced the troubling discoloration back to iron and manganese, and that lead levels found at Jordan Downs were insignificant enough to be categorized as "non-detect" and "below action."
But Puvvula is quick to point out that no safe blood level has been identified for these minerals for children - some 300 of which, including Nashley, live at Jordan Downs.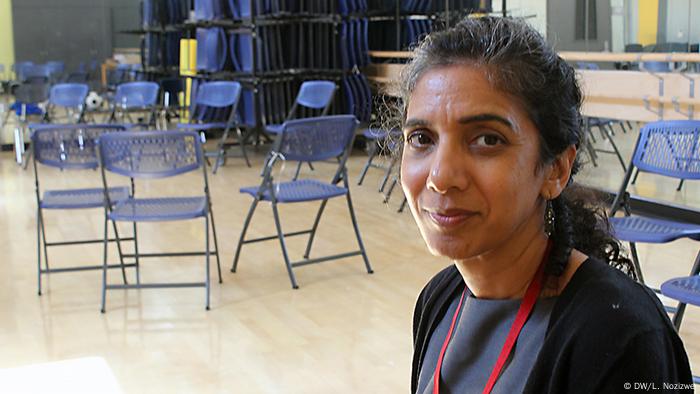 Dr Jyoti Puvvula has been helping to raise awareness of the issue among the community
She has also been vocal about the fact that not only lead but arsenic as well have been found in the soil around the public housing complex. She has been trying to spread the word.
"My big job was to come and educate the residents of Jordan Downs - what can they do for their kids to decrease the effect of lead and arsenic," Puvvla said.
Not the next Flint, Michigan
Some residents of Jordan Downs have drawn parallels to the water crisis in the Michigan city of Flint, after residents' water source was changed to the Flint River.
Due to a lack of water treatment, high levels of lead were detected in residents' blood.
Although lead levels in the water there have been reduced since the crisis began in 2014, local residents continue to rely on bottled water.
Concerns about water in Jordan Downs have not reached crisis status - and LA Legal Aid Foundation attorney Alexander Harnden wants to keep it that way.
"We would like to avoid being the next Flint, Michigan," he says. "We don't want to respond to a situation with a lot of sick people."
New beginnings triggers new fears
That the housing complex has been earmarked for a massive redevelopment might at first sound like a solution.
But Jordan Downs ranks as one of the most polluted places in California, thanks to decades of heavy industry and the ribbons of freeways that encircle the Watts neighborhood.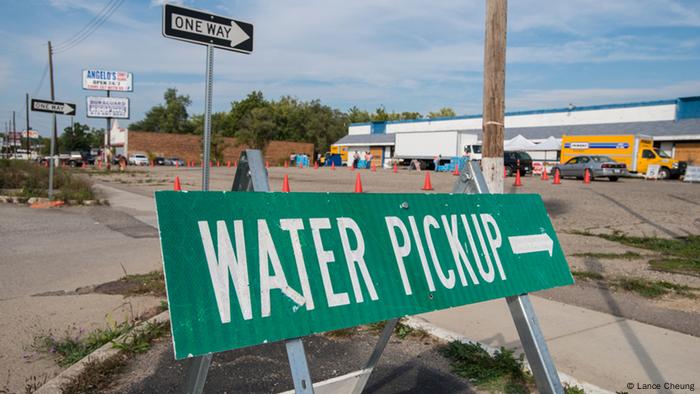 Residents in Flint, Michigan still rely on bottled water
Residents fear that construction work will in fact churn up contaminants, both in the ground and the water. Contaminants, which they will then have to live with.
Yet fearing that speaking out will see them evicted, most housing complex residents are keeping these concerns to themselves.
"People are not speaking to each other; they are not speaking out because there is a lot of fear in the community," Morales said. "They have this mentality that if they speak out, they are going to be taken away from their homes."
So Lety Talbert and Patricia Morales are the megaphone for many. The sisters have become local environmental justice activists - and Nashley is proud of their determination.
"They're not going to give up," she said. And she looks set to follow in their footsteps.