Dozens of European airports have been scrambling to keep their scheduled flights running, despite heavy snow and freezing temperatures.
Officials from Frankfurt International Airport, the largest in Germany, announced Sunday that at least 540 flights were canceled. Further disruptions are possible, the airport spokesman said, partly depending on how other airports cope with the weather. Frankfurt was forced to cancel 272 flights on Saturday.
With thousands of people still waiting on their planes, a police spokesman said the atmosphere in the airport was calm, after officers on Saturday were called to stop frustrated passengers from turning violent.
"There are still a lot of people here, but they're behaving in an orderly manner," the spokesman told reporters.
Frustrated flyers
Angelic intervention may be necessary to lighten the mood
"We understand when airlines call the police for help because they cannot cope with passengers," an airport spokesperson said, adding that the atmosphere in Frankfurt's terminals had become "very tense" on Saturday.
Witnesses said the unrest verged on violence at a Lufthansa check-in counter, where a group of stranded and rerouted passengers waiting in line became abusive toward a group of new passengers who were trying to check in to flights set to leave on time.
They said passengers from the first queue threatened newcomers, who tried to push forward to the desk in order to make their flights. Police had to separate the two groups.
In addition to the police, airport employees dressed as angels are also walking the terminals to keep stranded passengers calm.
Officials in Frankfurt said on Sunday that one of the airport's runways was entirely clear of snow, with workers trying to prepare the others at full capacity. Many of the cancelations so far, they said, had been due to disruptions at other airports across Europe, particularly in Croatia and Italy. Florence and Pisa's airports had closed after getting as much as 20 centimeters (eight inches) of snow.
"Our timetables are in utter shambles," an airport spokesperson told German news agency dpa. Germany's flagship airline, Lufthansa, scrapped its regular flight schedule and announced an emergency timetable would go into effect until the situation had improved.
It advised domestic travelers to try to reach their destinations by rail.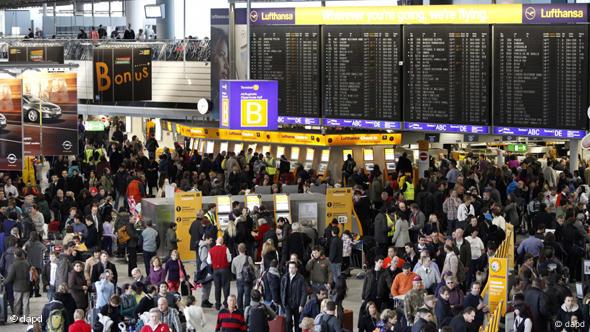 Witnesses say they saw angry passengers threaten each other in Frankfurt's crowded terminals
Cancelations across Europe
Europe's busiest hub, London Heathrow, was forced to shut down entirely on Saturday and was not accepting inbound flights on Sunday. Authorities said only a few planes would be leaving.
"There comes a point at which the weather has such an impact that it's simply not safe to fly," Andrew Teacher, spokesman for airport operator BAA, told BBC television.
Delays and cancelations also continued at London's Gatwick airport. On Saturday, some 200 out of 500 flights had been canceled by midday.
Dozens of flights were also canceled at Amsterdam's Schiphol airport on Saturday, after about 3,000 people had been forced to spend the night at the airport on Friday, where they were provided with 1,700 cots.
In France, about half of the flights at Paris' Charles de Gaulle hub were delayed Saturday by between 40 and 50 minutes due to local weather conditions as well as to delays from northern Europe.
Meanwhile, high-speed Eurostar trains from London to Brussels and Paris were placed under strict speed restrictions beginning on Friday.
In Italy, high-speed trains between Milan, Florence and Rome were canceled, forcing some 5,000 passengers to seek shelter in a conference hall in the Tuscan capital.
Pointing fingers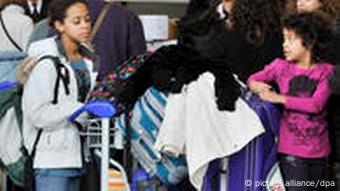 Many flight cancelations were due to closed airports in Italy
Frankfurt airport had already been having difficulty coping with inclement winter weather this season before the beginning of Christmas holiday travel season.
A week ago, the airport company and airlines pointed fingers at each other after Lufthansa got into a tiff with the Ukrainian government over the airline's refusal to rebook 200 stranded Ukrainian passengers onto other airlines.
Airport officials have admitted that a new computer system to plan landings and take-offs has proven faulty, but said many cancelations had also occurred because airlines were too stingy to keep reserve crews. Some jets were kept grounded, one official said, to let crew members sleep.
Lufthansa has meanwhile blamed Frankfurt airport for failing to de-ice jets fast enough.
Author: David Levitz, Mark Hallam (AFP, AP, dpa, Reuters)
Editor: Sean Sinico