Do poor children have as much a right to play and enjoy life as rich ones do? This question kept going through the mind of Professor Vijay Barse, a sports instructor at Nagpur University. On a rainy afternoon in 2001, he saw a group of slum children playing football in the mud and using a bucket as a ball and had an idea.
Observing their love for football, he thought: "Why not give slum children a chance to get out of the mud by creating a football club for them?" That very day he visited 16 slums and invited children there to play together in teams. Thus, the organization "Slum Soccer" was born.

The non-profit organization is based in Nagpur and aims at giving slum dwellers and homeless people a better life by connecting them with football.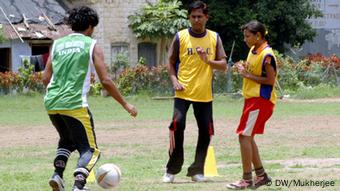 Some of Slum Soccer's slum kids were born in brothels
Slum Soccer takes in children from the age of eight and adults. "We start with the language of football. Values like team spirit, truthfulness, fellow feeling are given utmost priority," explains the head of Slum Soccer and son of the organization's founder, Abhijeet Barse.

"For adults, we also have extended schools, wherein they are educated to a basic level and are helped with some minor jobs. The main idea is to get the adults and youth busy with work and knowledge, then only can we eradicate social crimes and create a better society."

There are regular practice sessions to enhance the quality of the players. The teams have participated in various national and international matches. It is scheduled to represent India in the Homeless World Cup 2012 in Mexico this October.
Obstacles
But training the children and leading them to a better life was not as easy as Barse had thought it would be. "There were a lot of problems. At times with the slum leaders. Other times we had to face serious obstacles raising funds."

"Most people asked us why we needed slum children to play at an international level. It is unfortunate but true, that we in India hardly consider sport as a major event and many think it is a sheer waste of time for poor people."
Barse says that many of the slum children's parents forbade them from playing, instead sending them off to make money as day laborers.
But for some, the love of the game was too strong. In 2008, Homekant Surandase, son of a daily wage earner, fought all societal odds to join Slum Soccer and make something out of his life. Today, he works as a coach for the organization and plays in state league matches.
Benefit to society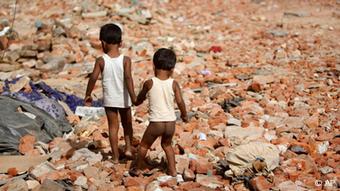 Few children have the opportunity to get out of the vicious cycle of poverty
A further drawback to the idea was getting the children out of the bad environments they are accustomed to. "Some children were involved in anti social activities while a few others had discipline issues. So gathering all of them under one roof and training them, harnessing team spirit and values of life was not very easy," recounts Barse.
But he is happy that the fruits of his labor have yielded shining results. Akhilesh Paul, also a coach with the organization, is a good example. "When Akhilesh joined us, he was involved with some anti-social activity. But proper education and love for the game have made him a respectable and noble citizen."
The club has come together with many other voluntary organizations across the country to rope in talented youth and train them for a better life. "Our motto is to help out as many children as we can. Training them to play and be respectable citizens is what we strive for."

Chief Coach Homekant Surandase who was also helped by Slum Soccer to begin his football career is delighted: "It feels great when we see people all over the world respect us for our talent. Now when I go to the slums, I am treated like a role model. This feeling can never be explained in words."