For two weeks now, Slovakia has been embroiled in one of its biggest state crises since the country's founding 25 years ago.
The unrest was precipitated by the brutal murder of investigative journalist Jan Kuciak and his fiancee, Martina Kusnirova on February 25. Tens of thousands of people have taken to the streets, demanding the resignation of Prime Minister Robert Fico's coalition government and issuing calls "for a respectable Slovakia," which has become the grassroots movement's motto.
Now Fico and his government have taken the initiative. On Monday morning the interior minister, Robert Kalinak, announced his resignation. He said while it was his responsibility to investigate the murders and find those responsible, in view of the public mood he had decided to step down.
Read more: Warning signal for Europe from Slovakia
Government under fire
The controversy has left the three parties in the governing coalition fighting for their political lives. President Andrej Kiska recently suggested that bringing forward parliamentary elections could be an option to resolve the crisis. Should that happen, it wouldn't just be Fico's nationalistic social democratic party, SMER, suffering heavy losses. His junior coalition partners — the right-wing Slovak National Party (SNS) and Most-Hid (Bridge), which represents the country's Hungarian minority — would also have reason to worry.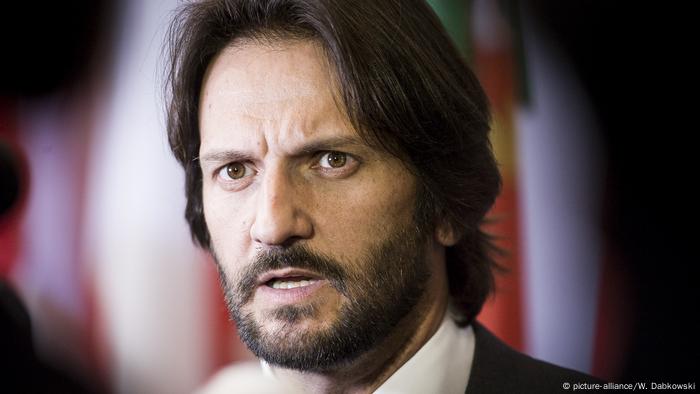 Will Kalinak's resignation be enough to calm the controversy in Slovakia?
Most-Hid, which could be in danger of falling below the vote share required to enter parliament, has been trying to distance itself from the rest of the government. On Monday evening, the party threatened to leave the coalition if the two other parties don't agree to negotiate the early vote.
"We think this situation can be solved only by early elections," party leader Bela Bugar told reporters.
Most-Hid previously demanded the resignation of Kalinak, who has long been one of the most controversial politicians in the country, as a condition for staying in the coalition. Kalinak is accused of having covered up tax fraud by the Slovak businessman Ladislav Basternak — he owns shares in one of Basternak's businesses. Kalinak is also rumored to have business connections with another controversial oligarch, Marian Kocner. Kocner was initially named in the Slovak media as a suspect in the murders of Kuciak and Kusnirova because of public threats he made against the journalist last year.
Mafia ties
But it remains to be seen whether Kalinak's resignation will be enough to placate a public left shocked and outraged by two brutal killings. The editor-in-chief of independent newspaper DennikN, Matus Kostolny, called the resignation mere window dressing. "In the last few days we've seen that Fico's government is closer to the Slovak and Italian mafia than to its own people," Kostolny told DW. "This is why he and his government should all resign."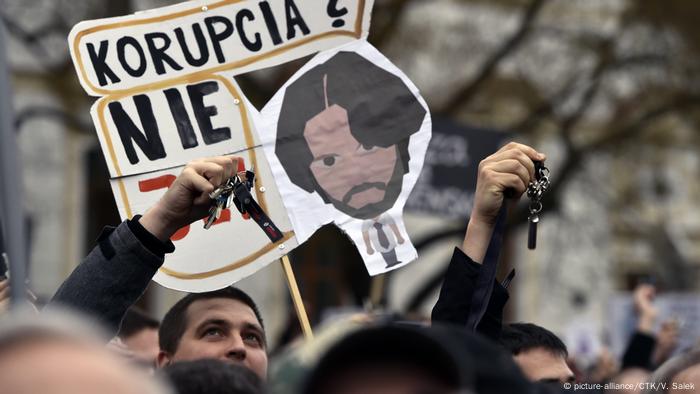 Tens of thousands of people have taken to the streets to protest against Slovakia's government
Last week, DennikN revealed a link between the Italian mafia and Fico's assistant, Maria Troskova. A former lingerie model, she subsequently became the business partner of Antonino Vadala, a suspected member of Italy's notorious 'ndrangheta crime syndicate. He lives as a businessman in eastern Slovakia, and is viewed as a suspect in the murders of Kuciak and Kusnirova.
Troskova has worked as an assistant and adviser to Fico since 2015, but so far his office has steadfastly refused to publish precise details of her position and job description. She is rumored in the press to be in a romantic relationship with Fico.
Sitting in with Merkel
Troskova has frequently accompanied Fico to important diplomatic meetings, including one with the president of the European Council, Donald Tusk, and another with German Chancellor Angela Merkel in April of last year. Former diplomat Ondrej Gazovic said in DennikN last week that German authorities had objected to Troskova's presence at the meeting with Merkel.
In an interview with DW, Gazovic said he had helped prepare the meeting when he was working as an embassy employee in Berlin, and that German diplomats had politely asked him on numerous occasions to take Troskova off the list of attendees. Officially, said Gazovic, their objection was that it was not clear what function she fulfilled. Fico's office, however, insisted on Troskova's participation, describing her as a "foreign policy expert."
Read more: 'Slovakia's systemic corruption is killing people'
The German Chancellery would neither confirm nor deny that there had any objections from Berlin, telling DW in a statement: "Decisions regarding the composition of a delegation are generally made by the government that sends it. We do not comment on these decisions."