Pop-singer-turned-preacher Junaid Jamshed is a perfect embodiment of Pakistan's many contradictions - its transformation from a moderate to a religious extremist country, its generosity and hypocrisy, its love for music and its equal contempt for culture and diversity. Jamshed was among the passengers of the ill-fated commercial plane that crashed on Wednesday, November 7, en route from Chitral to Islamabad. But for many, the 1990s pop icon had died in 2004 when he quit music and became an Islamic preacher who condemned music and fine arts.
Jamshed's metamorphosis and the transformation of Pakistani society were happening simultaneously. After eight years of General Zia-ul-Haq's authoritarian rule, who after coming to power in 1979 had unleashed a massive Islamization drive, Pakistan was finally opening up to controlled liberalization. So when Jamshed's musical band, Vital Signs, launched their first album in 1987, it took the nation by storm. The band, of which Jamshed was the lead singer, was highly westernized with modern looking, clean shaven young men clad in jeans and t-shirts. The band's earliest hit song, Dil Dil Pakistan (Love, love, Pakistan), however, still echoed the ultra-nationalism that Zia-ul-Haq's regime had been promoting for nearly a decade.
In 1988, after Haq died in a plane crash, Pakistan elected its first female prime minister, Benazir Bhutto. Democracy had been restored in the country and Pakistan had now embarked on economic and cultural liberalization processes despite the fact that the powerful military did not relinquish its support for the Islamic groups inside the country and the neighboring Afghanistan. Irrespective of what was happening on the state level, the early 1990s nonetheless saw the emergence of a number of popular musical groups. Jamshed is widely considered as one of the pioneers of that musical wave.
While the cultural openness was largely an urban-based phenomenon, the 1980s Islamism discourse in Pakistan remained potent and widespread.
"Junaid Jamshed represented our contradictions. Jamshed was a pop singer but he, too, was influenced by Zia-ul-Haq's Islamization, albeit he realized it much later in his career," Arshad Mahmood, a social activist and author of the book "Saqafati Ghutan" (Cultural Suffocation and Muslim Society), told DW.
Many hats
Even after renouncing and denouncing music, Jamshed didn't leave the spotlight. After September 11 attacks in the US and the fall of the Taliban regime in Afghanistan in 2001, a variety of shows on security and religious topics started to dominate Pakistan's TV channels. Televangelism, too, took over the country and Jamshed was at the forefront.
Jamshed became active in the Tablighi Jamaat, a puritan Deobandi group, that claims to be an apolitical organization but many Pakistani experts say that it gives ideological impetus to most extremist and militant religious organizations in Pakistan, including the Taliban.
"The Tablighi Jamaat cashes in on the popularity of celebrities. The cultural icons whose activities have been restricted due to terrorism find a new career in this religious organization," writer and poet Salman Haider, told DW.
Jamshed, however, found himself in hot water after his video became viral on social media in 2014 in which the late singer appeared to insult Aisha, the youngest wife of the prophet of Islam. The followers of the Sunni sect of Islam, particularly the Hanafis, revere Aisha and the prophet's other spouses, and any slur against them is considered outrageous.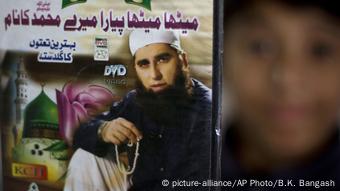 Many of Jamshed's fans felt betrayed by his decision to quit music
After realizing that he had made a mistake, Jamshed swiftly released another video rendering an apology. "I confess to my mistake," he said. "I did not do it intentionally." But hardline Islamic groups and jihadists were unwilling to forgive him.
"We demand an immediate arrest of Junaid Jamshed, who is a cursed person," Mobin Qadri, a spokesman of Pakistan Sunni Tehreek party said following the incident.
Jamshed also started his clothing line for men and women, although as a preacher he continued to sermonize against women's driving and their equal rights.
"Jamshed used his popularity for financial gains. He was retrogressive to the core but he could be seen with fashion models at the same time," Mahmood underlined.
Moshin Sayeed, a Karachi-based fashion journalist and designer, took a jibe at Jamshed on Facebook after the late celebrity's fans started paying glowing tributes to him on social media following his death.
"My condolences to the Muslims of the Islamic Republic of Pakistan on the huge loss of a big businessman of religion and clothes. While there's no dearth of brokers of the former, my concern is who will fill the vacuum at Junaid Jamshed Lawn and clothing empire," wrote Sayeed.
A musical icon, nonetheless
It is rare that Pakistan's liberal sections and religious people celebrate and mourn someone with an equal amount of respect. Jamshed's untimely death has affected most Pakistanis. At the same time, the debate over who Jamshed actually was, and what he represented, has started on social media. While the liberals celebrate Jamshed as a musical phenomenon who ushered in a glorious era of pop singing in Pakistan, the religious groups remember him as an Islamic scholar who gave up a glamorous life to devote himself to Islam.
Mohmmad Salman, a cultural critic, believes it is Jamshed's music that will be remembered as his true legacy.
"The emergence of Vital Signs on Pakistan's musical scene in the late 1980s was no less than a phenomenon. It was a band comprising young, good looking guys, composing, singing and performing their own songs. It caught the fancy of the nation and the rest is history," Salman told DW.
"Junaid's contribution should be understood in the context of the band. Vital Signs signified a turning point in the history of Pakistan where its youth discovered its voice in music," Salman added.
Many of Jamshed's fans felt betrayed by his decision to quit music but they were shocked at his death and have taken to social media sites to post his famous ditties that he crooned with a lot of heart.
"I felt anger and revulsion for Jamshed for many years but today I am sad, not because he was a musical genius or a brilliant born-again religious scholar but more because he was a person I loved," wrote a Facebook user.