Once again, there is great concern. Are we witnessing the locomotive of global growth heading toward a crash that will take us down with it? This year, the world's second-biggest economy has seen growth levels that were last this low 10 years ago, at the height of the global financial crisis. In the first quarter of 2018, GDP was 6.8 percent, and it decreased to 6.7 percent in the second quarter. The Bureau of Statistics in Beijing recently announced growth of only 6.5 percent for the third quarter.
It's a matter of opinion whether the world should be concerned. Chinese growth is still likely to be above the 6.5 percent set by the government — something that most countries can still only dream of. Industrial production fell by 5.8 percent in September — more than expected — but retail sales increased by more than expected. Investment in China also grew by 6 percent to over $70 billion (€61.27 billion). External trade remained robust, too, perhaps because Chinese exporters were hoping to forestall the consequences of the trade war with the US
Read more: Sudden drop in Chinese property prices leaves speculators reeling
Impact of tariffs not yet clear
Most of the tariffs imposed by both the US and China only entered into effect last month so the impact cannot yet be measured in figures. However, Beijing has already talked about the "psychological consequences." The Shanghai stock exchange has fallen by 30 percent since January and the yuan has tumbled 9 percent against the dollar. Chinese consumers are worried. Car sales fell in September for the third month running. This is the worst result in three decades for the biggest car market in the world. One reason could also be that potential car buyers are waiting to see what comes of e-mobility.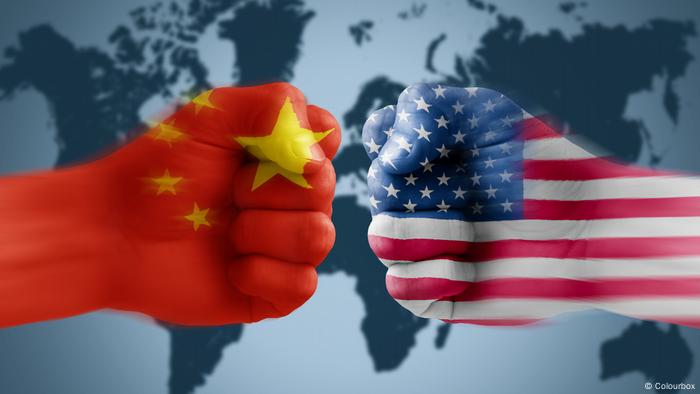 There is still no sign of any consequences of the mutual punitive tariffs in official Chinese economic data
The US ratings agency S&P has warned of a "debt iceberg" because of massive borrowing by local governments. However, the risk might be narrower than it may seem at first glance because China's overall debts are low by international comparison. Most debts have been incurred by state companies, which have received loans from Chinese banks. China has hardly any debts abroad. This was not the same when countries such as Thailand and South Korea skidded into the Asian crisis in 1998. Japan has been stable for decades despite having much higher internal debt.
Read more: China, Japan willing to mend ties amid Trump challenge
Homemade causes of slowdown
Furthermore, the causes of China's slowdown are predominantly homemade and thus easier to control: Over the past two years, Beijing has been cracking down on the shadow economic system and trying to curb debt. This has put a brake on growth but will help to create a more stable financial system in the long term. Additionally, the most populous country in the world is still in transition from a production-based export economy to a service-orientated domestic economy.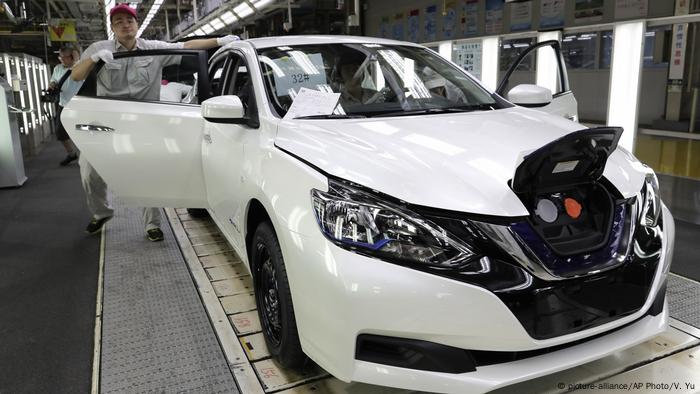 Chinese drivers are still holding off from buying electric cars
The trade war is burdensome but China will not collapse. The Communist Party will have to maintain growth by creating new infrastructure projects at home and abroad. More financial support for small and medium-sized enterprises, lower interest rates and tax breaks for exporters can all be expected. This will cost the state money. There will also be an easing of finance and monetary policy. The reserve requirements have already been cut to 14.5 percent for big banks and 12.5 percent for smaller ones. More liquidity will drive the economy. Beijing has done all this to limit the impact of the trade war.
Read more: China opens Hong Kong-Zhuhai-Macau bridge
Balancing act
It is not easy to balance growth and debt reduction. But Beijing knows that the basic conditions are good. Yi Gang, the governor of the central bank, recently said that China's fluctuating stock exchanges in recent weeks were the result of an overreaction and that potential for growth remained "extremely strong."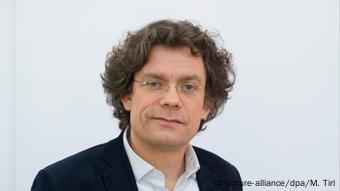 Frank Sieren writes a weekly column from Beijing for DW
In the past 25 years, Chinese stock exchanges have fallen by over 10 percent 17 times over a long stretch of time. It should also not be forgotten that the wealth of China's growing middle class is increasing and that even if the total economy is weaker, this trend will not be reversed. But Beijing has to enable China's increasingly wealthy population to diversify.
Citizens, many of whom are the first in generations to be wealthy, are trying to increase their options by getting their money out of the country. This is probably why a banker with the Swiss bank UBS was recently detained in China. There are strict restrictions on capital flows out of China. Regulations allow nationals a foreign exchange quota of $50,000 a year. Beijing does not want the Chinese economy to lose out — the idea is that the Chinese should invest in China. But how, if stock exchanges collapse and the real-estate market is overheated?
There will be much to talk about when China's leadership gathers in Beijing in December to set the strategies for next year. The 6.5 percent growth forecast will in all probability be achieved, but the impact of the trade war with the US has yet to be seen.
Before December, however, there is another important meeting: US President Donald Trump and his Chinese counterpart Xi Jinping will convene on the margins of the G20 summit in Argentina.
Perhaps the problem will already have been solved by then and Chinese citizens will once again be investing and consuming. While income and wealth stagnate in the industrialized world, in China there is still plenty of potential.
DW's Frank Sieren has lived in Beijing for over 20 years.
Each evening at 1830 UTC, DW's editors send out a selection of the day's hard news and quality feature journalism. You can sign up to receive it directly here.