Siemens and the Iraqi government said on Sunday that they had signed a memorandum of understanding on plans to supply electricity to the country.
The deal would see an expansion of Iraq's capacity to produce power by 11 gigawatts — roughly equal to half the amount the country produces at present — over the next four years.
The "roadmap proposes cost savings in billions of US dollars and generating additional electricity 24/7 for 23 million people," said a statement from Siemens.
The deal includes the upgrading of existing electricity generating plants, and the building of new ones, especially in deprived areas. It also includes donations for hospitals, schools, university funding and vocational training.
"Our commitment to the Iraqi people stands strong. We promised to achieve affordable and reliable power supply, help with anti-corruption, build schools and hospitals and create thousands of jobs," said the president of the Munich-based firm, Joe Kaeser.
While Iraq has some of the world's biggest oil supplies, its population has suffered from crippling power shortages, leading to protests that have often turned deadly.
The slice of Iraq's energy market is reported to be worth some $15 billion (€13 billion).
Read more: Siemens aims for active role in rebuilding war-torn Iraq
A memorandum of understanding is a statement of intent by two parties that is not legally binding.
Soon after the Siemens deal was announced, General Electric announced a similar agreement with the Iraqi government.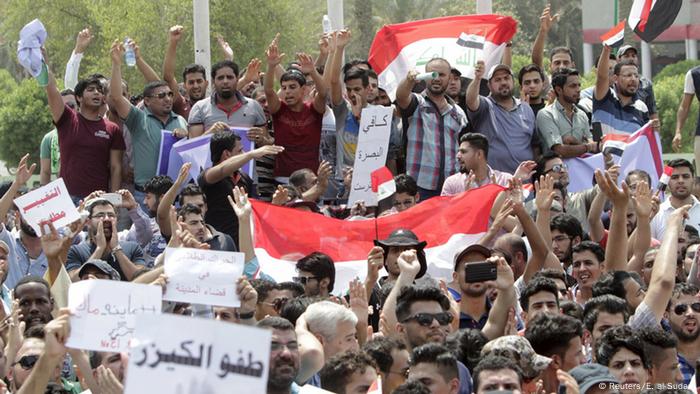 The southern city of Basra was the flashpoint for protests against electricity shortages
"Future contracts will be prepared based on this memorandum to help solve the electricity crisis in the country," said a statement from the Iraqi Electricity Ministry, confirming the news.
There had been speculation that the Boston-based firm would lose out to entirely to Siemens. On Wednesday, the Financial Times newspaper reported that Washington had intervened.
Read more: Siemens turns its back on Iran
US President Donald Trump's administration was reported to have reminded Baghdad that some 7,000 US military personnel had died since the 2003 invasion that overthrew Saddam Hussain.
A representative of the Iraqi Ministry of Electricity said on Sunday that pressure from the US government had influenced the two deals. "The pressure from the Americans was fierce," said the official.
rc/sms (dpa, AFP)
Each evening at 1830 UTC, DW's editors send out a selection of the day's hard news and quality feature journalism. You can sign up to receive it directly here.