A shooter opened fire at YouTube's US headquarters in San Bruno, near San Francisco, on Tuesday.
The woman used a handgun to wound at least three people before fatally shooting herself, according to police and witnesses.
Read more: 8 facts about gun control in the US
How the shooting at YouTube HQ unfolded
As the shooting unfolded, several YouTube employees posted details of the incident on Twitter.
"I looked down and saw blood drips on the floor and stairs. Peeked around for threats and then we headed downstairs and out the front," a verified Twitter user who claims to be a YouTube product manager posted.
Local broadcasters showed people evacuating the building with their hands above their heads.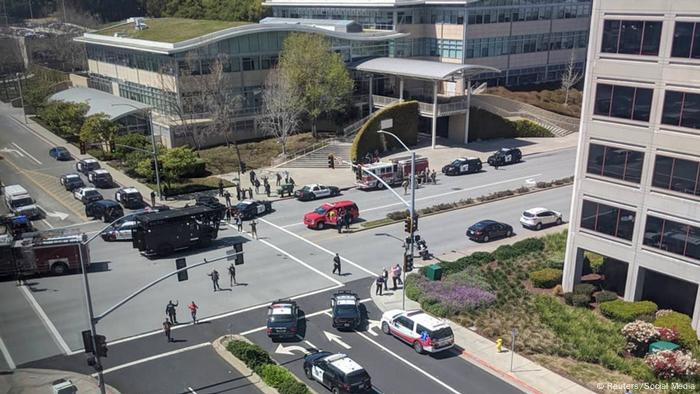 Images showed armed police descending on the scene
At least four victims and one fatality reported
Officers initially stated that they had found four people suffering from gunshot wounds as they entered the YouTube offices, as well as one person who had died from a self-inflicted wound, San Bruno Police Chief Ed Barberini said. They later said that three people had been shot, while a fourth had suffered from a twisted ankle or similar injury.
Police believe the deceased person is the shooter, Barberini said, adding that the "investigation is still ongoing" and that security forces were "still clearing the building."
Police did not give a motive for the shooting, although US media reported that the suspected shooter may have been attempting to shoot her boyfriend.
San Francisco's General Hospital said it had received three victims: a 36-year-old man in critical condition, a 32-year-old woman in serious condition and a 27-year-old woman in fair condition. The individual with the ankle injury was also taken to a hospital.
Google, which owns the world's biggest online video sharing site, said it was coordinating with authorities. CEO Sundar Pichai later sent a note to Google employees saying the company was monitoring the situation and "doing everything we can to support [those injured] and their families."
Lawmakers respond to YouTube HQ shooting
The White House said US President Donald Trump had been briefed on the situation. The president tweeted: "Our thoughts and prayers are with everybody involved. Thank you to our phenomenal Law Enforcement Officers and First Responders that are currently on the scene."
Jackie Speier, the representative for California's 14th Congressional District, where YouTube's San Bruno campus is located, said she was "saddened to hear about another mass shooting" and called on US lawmakers to take action to end gun violence.
San Francisco Mayor Mark Farrell took a similar line, saying the incident demonstrated why the US "desperately" needed common sense on gun control.
Democratic Senator for California Dianne Feinstein said she was praying for the safety of everyone at YouTube's headquarters and that her "stomach sinks with yet another active shooter alert."
US immersed in gun control debate
The shooting at the tech giant's San Bruno campus follows a series of deadly gun incidents at US schools and workplaces, and comes amid fierce political debate on whether to enforce stricter firearms controls in the US.
Around 1.5 million people took the streets across the US on March 24 — under the March for Our Lives banner — to call for stricter gun measures in the wake of a deadly school shooting in Parkland, Florida.
Amid the heated debate on weapon controls, YouTube announced last month that it would ban content promoting the sale of firearms and gun accessories.
Female mass shooters are rare. According to recent analysis by The Washington Post, out of 150 US shootings with more than four victims that have taken place since 1966, only three were done by women. A shooting in San Bernardino, California, in 2015 that killed 14 was perpetrated by a man and a woman together.
Each evening at 1830 UTC, DW's editors send out a selection of the day's hard news and quality feature journalism. You can sign up to receive it directly here.
cmb, dm, aw/se (Reuters, AFP, dpa, AP)