Venezuelan President Nicolas Maduro hailed the results of Sunday's vote for a controversial constitutional assembly that will cement his power, even as international criticism poured in and the opposition boycotted the polls.
Electoral authorities said 8 million voters, or about 41 percent of those eligible, came out to the polls to elect a 545-member citizens' assembly tasked with rewriting the constitution and empowered to dissolve the opposition-controlled Congress.
Maduro hailed the turnout as "the biggest vote that the Bolivarian Revolution has seen in the past 18 years," in a statement overshadowed by an opposition boycott and raging street violence that left 10 people dead.
Many polling stations in the capital were reportedly empty, even ones that had been teeming in previous elections.
The opposition, emboldened by an unofficial referendum against Maduro last week, claimed only 2 to 3 million people voted.
If true, the low numbers would cast a shadow of illegitimacy over the constituent assembly that according to pre-election opinion polls had only 20 percent support.
Read: What are Venezuela's proposed constitutional changes
One exit poll based on surveys from 110 voting centers estimated 3.6 million people voted, or about 18.5 percent of registered voters.
"The results thus suggest that the government maintains an important loyal core of supporters that it can mobilize in both electoral and non-electoral scenarios," US investment bank Torino Capital and a Venezuela public opinion company concluded in their report.
All those elected to the assembly were from Maduro's Socialist Party.
There were widespread reports Maduro and his loyalists coerced the country's 2.8 million state workers into voting. Two dozen sources told Reuters they were being threatened with dismissal and were being blasted with text messages and phone calls asking them to vote and report back after doing so.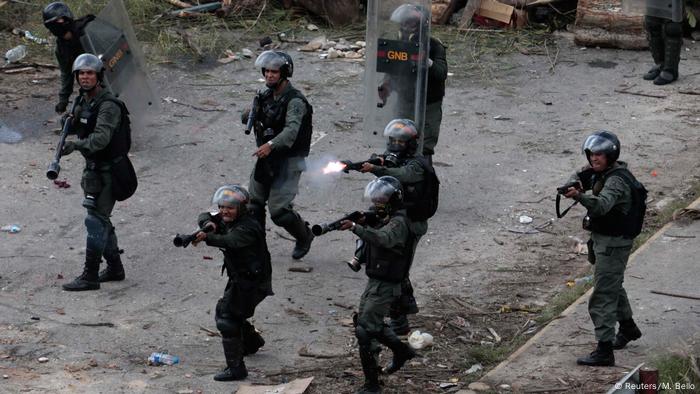 10 dead in clashes, more protests called
The vote coincided with one of the bloodiest days since protests began nearly four months ago, with protesters wearing hoods and masks erecting street barricades and clashing with riot police. The protests occurred despite a government ban and prison sentences as high as 10 years for protesters.
Authorities said 10 people died in the various protests and the opposition said the true death toll was 15.
Among those killed was candidate Jose Felix Pineda, a 39-year-old lawyer who prosecutors said was shot by multiple assailants who broke into his home. A regional secretary for the opposition youth party Democratic Action, Ricardo Campos, was also shot dead during a protest against the election in the northeastern town of Cumana, prosecutors said on Sunday.
Read: Venezuela: Democracy under fire
Prosecutors also said a Venezuelan soldier was shot dead at a protest in the western state of Tachira, and two teenagers were killed at different protests in the same region.
In Caracas, a bomb exploded in front of a line of police officers of motorcycles, injuring seven of them.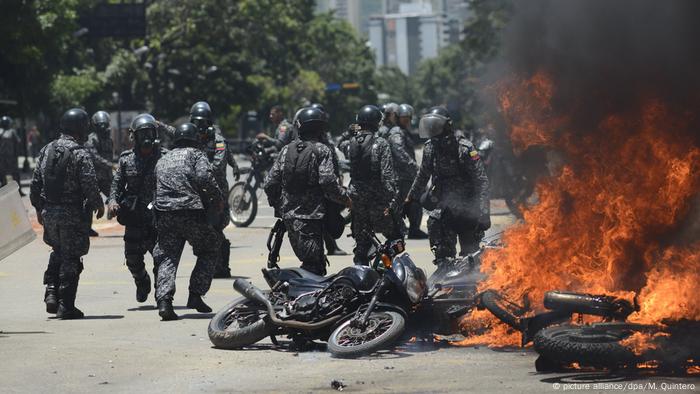 In what could be a sign of increasingly violent tactics, a makeshift bomb injured several police officers
More than four months of opposition-led protests against Maduro have left nearly 120 people dead, exposing deep rifts in the oil-rich country suffering from food and medicine shortages.
The opposition planned further protests on Monday, piling pressure on Maduro after nationwide strikes and protests leading up to Sunday's vote.
Opposition leader Henrique Capriles also called for protests on the day that the new assembly takes office, which Maduro said would happen this week.
US to announce sanctions
The United States on Monday geared up to announce a new round of "actions" against Venezuela, including potentially implementing a devastating halt of dollar payments for the country's oil or a total ban on oil imports to the United States. Such punishment would send Venezuela's already nosediving economy careening into further turmoil.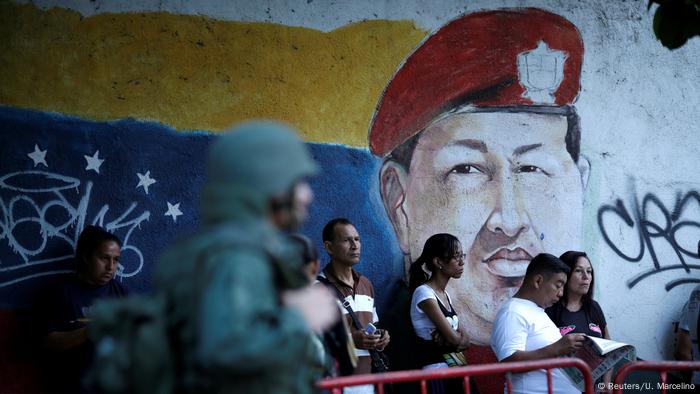 "We will continue to take strong and swift actions against the architects of authoritarianism in Venezuela, including those who participate in the National Constituent Assembly as a result of today's flawed election," the State Department said in a statement, calling the vote a step toward authoritarian rule.
Latin American nations Argentina, Brazil, Colombia, Mexico and Panama all said they would not recognize the vote. Only Cuba, Nicaragua and Bolivia supported Maduro.
In Brussels, the European Union condemned "the excessive and disproportionate use of force by security forces."
"Venezuela has democratically elected and legitimate institutions whose role is to work together and to find a negotiated solution to the current crisis. A Constituent Assembly, elected under doubtful and often violent circumstances cannot be part of the solution," the EU's foreign policy body said in a statement.
It was unclear if the EU would follow the United States in imposing sanctions.
Nicolas Maduro says the new constitution will end the country's debilitating political and economic crises.
The opposition says the constituent assembly is ursurping Congress' power and will push through changes to cement a Maduro dictatorship. Congress has already been severely weakened by the Maduro-loyalist electoral commission and Supreme Court.
cw,aw/se (AFP, AP, dpa, Reuters)