Several thousand protesters surrounded Serbia's state broadcaster RTS headquarters on Saturday, as part of continued anti-government protests. The move was a call from demonstrators for greater media freedom in country.

The protests against Serbian President Aleksandar Vucic entered their fourth month with another large rally in the capital, Belgrade.

Demonstrators have been gathering there every Saturday since December 8, routinely drawing more than 10,000 people. But protests have also taken place in some 20 cities and towns across the country.
Read more: Russia's Vladimir Putin welcomed by embattled ally in Serbia
The crowd booed and jeered outside the TV building in central Belgrade, expressing their discontent with what they consider to be the station's biased reporting. Protesters blockaded the entrance to RTS for roughly one hour.
Protesters have demanded for an end to Vucic's stranglehold on the media. Opponents accuse Vucic's government of fostering hate speech and divisions while curbing democratic freedoms.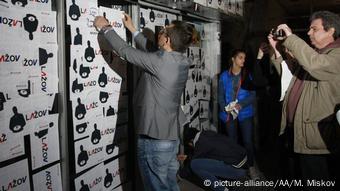 Demonstrators covered the doors of RTS headquarters with flyers
Vucic, a former nationalist who says he wants to lead Serbia into the European Union, has denied the accusations against him.
The movement against Vucic was sparked by the assault on opposition politician Borko Stefanovic in late November.
Initially dubbed "stop to bloody shirts," the movement has recently adopted the slogan "one of 5 million," a jab at Vucic, who said after early protests he would not bow to a single demand from protesters, "even if there were 5 million of you."
Read more: Ana Brnabic: 'Insolent' DW interview causes stir in Serbia
jcg/cmk (AP, dpa)
Each evening at 1830 UTC, DW's editors send out a selection of the day's hard news and quality feature journalism. You can sign up to receive it directly here.