It was comments on Twitter by Fazil Say that sent the 43-year-old pianist to court, resulting in the 10-month suspended sentence delivered Monday (15.04.2013). If Say violates parole, he will go to jail.
Say's sentence recalls the fate of his father, Ahmet Say, whose critical remarks in the 1970s following the Turkish military's coup landed the musicologist and author in jail on multiple occasions.
Both in life and in artistry, the classically trained pianist is neither cool nor academic. In performance, Fazil Say's whole body moves with the music, hair flying wildly. That artistic persona wins over audiences, as at a notable performance in January 2013 in Dortmund's "Konzerthaus." Sometimes borderline outlandish but always powerful and thoughtful, the Turkish pianist's renditions are characteristic for their rhythmic emphasis and depth.
Music as therapy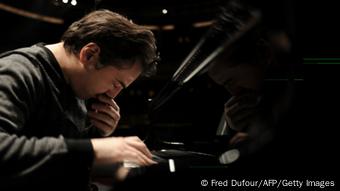 Say has considered leaving Turkey for Japan
Music played a pivotal role in the life of Fazil Say, born in Ankara in 1970. As a child he was given a wind instrument to play to help recuperate from lip surgery. Switching to piano, he entered the conservatory in Ankara at age 11. Producing his first compositions three years later, he went on to study both piano performance and composition. In 1987 Say took up studies at the Düsseldorf Conservatory, later at the Berlin University of the Arts.
Fazil Say's compositions have gained increasing international recognition in recent years, while as a pianist he has been the toast of world concert halls since 1994. The list of prominent conductors and orchestras Say has worked with reads like a Who's Who of the classical music world.
Beyond the music
Passionate about music, Fazil Say is also interested in political, social and cultural developments in Turkey. "He's a highly intelligent individual, very aware of what's going on around him," said countryman and composer colleague Taner Akyol, based in Berlin. "Although Fazil lives 24/7 for his music and is constantly on tour, he reads widely and knows many important Turkish people."
German parliament Sevim Dagdelen described his political commitment to DW: "Fazil Say is a very sensitive but also very brave human being. He's not easily intimidated and believes strongly in the separation of church and state. He's also a passionate advocate of human, civil and minority rights."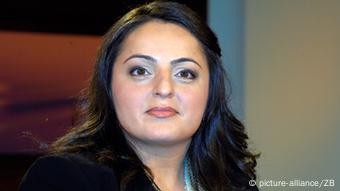 German parliamentarian Sevim Dagdelen
Whistle blower
While Fazil Say is celebrated as a star in his home country, his open opposition to Turkish social policy has won him several critics in the predominantly conservative Islamic government led by Prime Minister Recep Tayyip Erdogan. "He's a thorn in the side of the AK Party," said Sevim Dagdelen, "because he doesn't censor what he says." Also viewed unfavorably by the AK party is Say's Symphony No. 2, subtitled "Mesopotamia," which draws attention to the unresolved problem of the Kurds in Turkey. Hurtful and defamatory attacks against the pianist have increased in his homeland in recent years. Say has been called an agitator who should leave Turkey once and for all - strong words for a musician who has worked so intensely and successfully with his nation's musical heritage. Hardly any of his contemporaries can match him in his efforts.
International symbol
In many of his compositions, Fazil Say employs melodies, motifs and stylistic elements from classical Turkish music or traditional instruments, combining them with Western harmonies, phrasing or elements of jazz, which he loves just as much as classical music. Musically and intellectually, Say is an international symbol of a modern and open Turkey.
Passionate in life and art, much beloved in Germany
Observers are curious how Turkey's cultural scene will respond to the verdict, and how Say will deal with it. Several years ago, the pianist complained in an interview about deficits in freedom of expression in his country, criticizing what he called the restrictive approach of the conservative government.
Now convicted of blasphemy, Say may be one step closer to a move he has said he is pondering: leaving Turkey behind for Japan.