The Bundesverdienstkreuz or Order of Merit of the Federal Republic of Germany was awarded to the star conductor by President Joachim Gauck in a ceremony in Berlin's Bellevue Palace, the president's official residency.
Barenboim, decorated with the Grand Cross with star and sash, was praised for his ability to break down borders and prejudice through music.
"You've shown how exhilarating it can be when one uses this power against opposition," said President Gauck in his official address.
Barenboim's West-Eastern Divan was singled out for special praise, the orchestra he founded in 1999 with Palestinian intellectual Edward Said which brought together young Israeli and Arab musicians for the first time.

Barenboim, who among other duties is General Musical Director of the Berlin State Opera, returned to Germany especially for the ceremony. He was recently on tour in America with the West-Eastern Divan, where they played all nine of Beethoven's symphonies across four sold out evenings in New York's Carnegie Hall.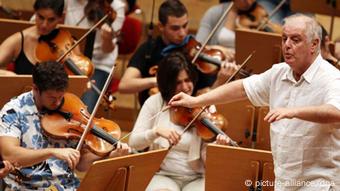 Barenboim conducting the West-Eastern Divan.
The conductor holds triple citizenship – Israeli, Palestinian and Argentine – and is as controversial as he is admired. He has been openly critical of what he sees as the Israeli occupation of Palestinian territories. After conducting music by the anti-Semitic composer Richard Wagner in Israel, he was publicly chastised by then-Israeli President Moshe Katsa, who regarded the move as offensive to Holocaust survivors.
Barenboim's outspokenness and attempts to bring together cultures through music has won him many plaudits, however. His many distinctions include the 2002 Tolerance Prize, the Wolf Prize in Arts and a Goethe Medal in 2007, awarded each year to a non-German for meritorious contributions to the spirit of the Goethe Institute.
The Bundesverdienstkreuz, awarded in eight different classes, was created by the first President of the Federal Republic of Germany, Theodor Heuss, in 1951.