Monday's accident at the Zasyadko coal mine in Donetsk trapped hundreds of miners underground as their pit lost power. A shell had reportedly hit a regional electric substation, cutting off the supply.
"When the power went out, there were 496 miners underground," a Donetsk region emergencies ministry official told the AFP news agency by phone, later adding that rescue efforts were progressing smoothly:
"The miners are now making their own way out to safety. The ventilation systems are all working and their lives were never in danger," he said.
A similar incident at the same site, in rebel-held territory in eastern Ukraine, briefly trapped 300 miners on January 11 this year. Donetsk is the capital of the industrial Donbass region, much of which is currently controlled by separatist fighters.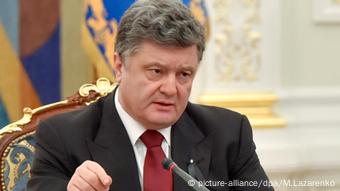 Violence in Mariupol at the weekend prompted President Poroshenko to call a security council session in Kyiv
Almost 5,000 people have been killed in roughly nine months of fighting between the rebels, broadly believed to be supported by Russia, and Ukraine's military. A government spokesman in Kyiv said on Monday that seven Ukrainian soldiers had been killed, and a further 24 injured, in fighting with rebels in the past 24 hours.
Steinmeier: EU not 'blindly set' on more sanctions
President Vladimir Putin's spokesman, Dmitry Peskov, on Monday warned the West against imposing fresh sanctions on Moscow in response to the unrest in neighboring Ukraine, saying that "threats and blackmail" would not prove useful in the long run.
"Renewing threats and economic pressure against Russia is an absolutely destructive, unjustified and short-sighted strategy," Putin's spokesman said, according to Russian news agencies.
German Foreign Minister Frank-Walter Steinmeier, meeting his Latvian counterpart Edgars Rinkevics on Monday, told reporters in Berlin that new sanctions might not materialize. Nobody was "blindly set upon" new sanctions at Thursday's meeting of EU foreign ministers, Steinmeier said: "Our goals are all set on finally ending this fighting."
Some European politicians called for fresh sanctions over the weekend, following the rebel advance on Mariupol in which 30 people were killed - and Steinmeier warned that tougher sanctions remained an option for the EU.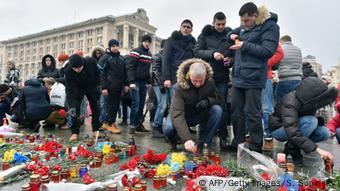 People paid their respects in the capital for the dead in Mariupol
"An attack, or even an offensive broadly set up to target Mariupol and territory beyond - that would be a qualitative change to the situation, one to which we would be forced to respond," the German foreign minister said.
At a UN Security Council session called after the Mariupol fighting, Russia blocked the release of a Council statement condemning the attacks.
NATO convenes at short notice, Ukraine talks 'within days'
The NATO military alliance called an unscheduled meeting on developments in Ukraine for Monday afternoon in Brussels.
"At the request of Ukraine, there will be an extraordinary meeting of the NATO-Ukraine Commission at ambassadorial level this afternoon… in view of the situation in eastern Ukraine," a NATO official said. NATO Secretary General Jens Stoltenberg had over the weekend urged Moscow to "stop destabilizing Ukraine and respect its international commitments."
The OSCE, which has led negotiations between the rebels and Kyiv, and its Permanent Council was also set to convene on Monday in Vienna for talks on Ukraine.
As for direct talks between the rebels and the government, following the rebels' announcement last week that they were breaking off negotiations, their status was not entirely clear. Russian Foreign Minister Sergey Lavrov said on Russian television that they could restart imminently.
"Certain contacts are planned within days as far as I know," Lavrov said. "We are trying as far as we have the powers and opportunities to facilitate these contacts."
msh/rg (AFP, Reuters)