In a letter to European Union President Donald Tusk on Wednesday, the head of the European Parliament criticized MEPs' "secondary role in… Brexit negotiations."
Currently, Michael Barnier has been assigned to lead the Brexit talks on behalf of the EU, after being hand picked by the European Commission.
However, Schulz warned that parliamentary lawmakers could reject the final deal should they be sidelined during the talks, resulting in what would be "the very hardest of Brexits," meaning the UK would be completely ejected from the EU single market. That, Schulz warned, would be "to the detriment of everybody."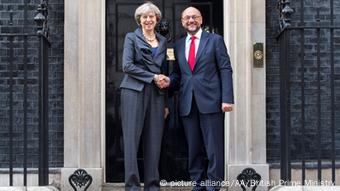 British PM Theresa May has said she'll formally trigger Article 50 by the end of March 2017.
Schulz also suggested that parliament could also draw its own arrangements with Barnier and the United Kingdom.
Following Schulz's comments, Guy Verhofstadt, the parliament's lead Brexit negotiator asked whether it should "open separate negotiations with the British?"
Schulz voiced his concerns on the eve of a one-day Brussels summit, which will bring together the heads from all EU states, including British Prime Minister Theresa May.
Once May departs, leaders from the remaining 27 member states are expected to hammer out a united stand for the negotiations. Talks are scheduled to begin after Britain triggers Article 50 of the Lisbon Treaty, formally launching Brexit proceedings, by March 31, 2017.
US Brussels envoy urges against "hard" Brexit
The US' outgoing envoy in Brussels, Ambassador Anthony Gardner, on Wednesday warned against the UK leaving the single market, saying that US businesses would suffer.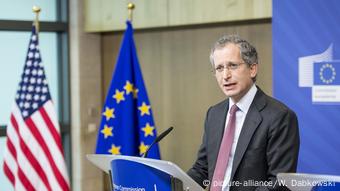 Gardner tells Trump: Supporting "hard" Brexit would be an "enormous mistake for US business."
In a stern message to the incoming Donald Trump administration, Gardner said: "To send the message to London 'break free' 'take back control' 'forget the EU,' it would be an enormous mistake for US business, both for services and manufacturing businesses."
The President-elect praised the UK's decision to leave the EU the day after the Brexit referendum, hailing it as a "great victory." During his own divisive campaign, Trump often drew parallels between his presidential bid and the Brexit referendum and, following his victory, received former UKIP leader and key Brexit advocate Nigel Farage at his residence at Trump Tower in New York City.
"I hope we do not send the message to the UK that they should just break free and damn the consequences, because we should want to see a smooth orderly process in which both sides' interests are respected," Gardner said. "And that would be my message to the incoming administration: there is another side, not just a UK side."
dm/kl (AFP, AP)