The European Parliament on Wednesday presented Saudi blogger Raif Badawi with the Sakharov Prize for Freedom of Thought, the EU's highest tribute to human rights.
"The prize is awarded to individuals who have made an exceptional contribution to the fight for human rights across the globe," according to the European Parliament's website.
Badawi was selected due to his exceptional courage in promoting free speech in Saudi Arabia, which practices an ultra-conservative strain of Islam known as Wahhabism.
Although detained in 2012, he was sentenced last year to 10 years in prison, 1,000 lashes and fined 1 million Saudi riyals (243,600 euros, $266,600) for allegedly insulting Islam on an online forum he created for liberal Saudis.
"All he was doing his fulfilling his right of freedom of expression … and promoting respect for free speech," said EP President Martin Schulz said to lawmakers on Wednesday. "Raif Badawi is not alone in that fight."
In January, Badawi received the first 50 lashes, though the sentence was stayed for health reasons following a campaign decrying the punishment against the secular blogger.
Earlier this month, Badawi started a hunger strike to protest the conditions of his sentence.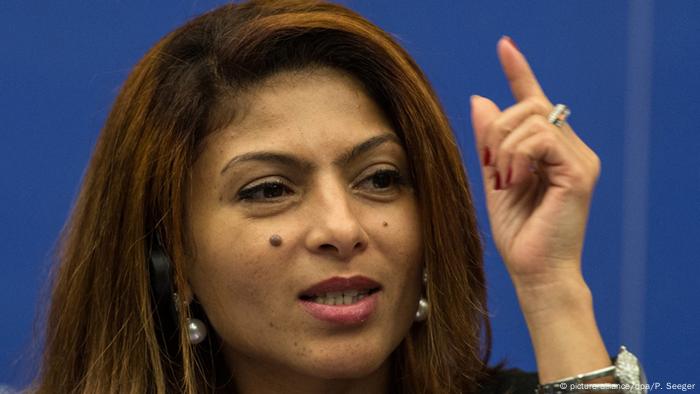 Ensaf Haidar, Badawi's wife, accepted the prize on behalf of the jailed blogger
"I would have liked to see him taking the prize himself, but unfortunately he is not here," said Haider before asking the parliament for a minute of silence in remembrance of the Paris attacks victims, a request from Badawi.
"Raif is not a criminal … he is a free thinker, a free spirit," said Haidar. "My husband simply expressed his views and set them out on paper; he was thinking of a better world."
Badawi is the first person from the Arab Gulf to receive the prize.
Established in 1988, the 50,000-euro ($54,900) prize was named after Russian nuclear physicist and human rights defender Andre Sakharov.
Earlier this year, Badawi was presented with DW's Freedom of Speech Award, as part of the BOBs series of prizes for online activism.
ls/sms (epd, dpa)