"I'm already a bit hoarse!" Alexander Murakhin says, laughing. In a small bar in Zelenograd on the outskirts of Moscow, the football fan and four of his friends are watching a game on the big screen. One of them owns the bar, and their voices fill the air as they scream at the screen along with several other fans.
The match is not just any game. Two of the most popular teams in Russia, Zenit St. Petersburg and Spartak Moscow are meeting in what has been called the "battle of the capitals" (St Petersburg used to be Russia's capital).
"This is so emotional for me," Alexander says. "We are going to support Spartak with all our strength."
As they cheer on their favorite team, droves of commuters walk on by having left the station, right by the bar. Surveys show over half of Russians say they are indifferent to football. Some 32 percent of Russians watch football from time to time, while only 16 percent see themselves as long-term football fans.
Alexander is clearly in the latter section of the population. The high school sports teacher has been supporting his club side since childhood and will roar on Russia during the World Cup next June.
"We are the hosts. So the main thing is for us to come first or second place in our group (to qualify for the knockout stage)," he says, explaining that he will be watching Friday's World Cup draw closely. "I hope that the Russian team will end up in an easy group. The whole country is hoping for an easy group."
An expensive pleasure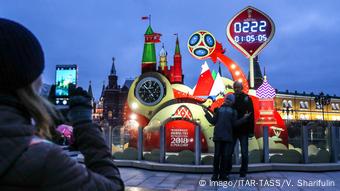 A clock in the center of Moscow is counting down the days until the kickoff
Though football fever may not have gripped the entire country quite yet, just over half of the 742,760 World Cup tickets sold so far have gone to Russians. They have had some encouragement from FIFA, which introduced a cost bracket with cheaper tickets for Russians.
Still, even in the capital Moscow, where incomes are higher than in other parts of Russia, some say tickets are a luxury.
"My son and my husband will be watching the World Cup, so I'll be watching it on TV too," says one young woman during a walk with her children near Red Square. "But we probably won't go to the actual World Cup, the tickets are too expensive." Even football fan Alexander admits that he only managed to get tickets "thanks to my mother-in-law," who gave them to him as a gift.
Moscow's makeover
Money doesn't seem to be the issue for Moscow's city authorities, however. For months, construction work has been taking place all over the city. Sidewalks have been widened, roads repaved and fountains built. City officials told DW that around 1.5 billion euros ($1.8 billion) has been invested just to modernize roads, pedestrian zones and bike paths in the capital.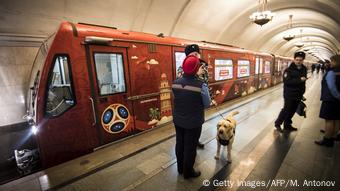 This week Moscow rolled out a new football-themed metro train
"The way the city looks is appealing already. And things will look even better in the summer," Moscow Deputy Mayor Alexander Gorbenko commented this week at the presentation of a new World Cup-themed metro train in the capital.
"When it comes to construction, the infrastructure is ready (for next year's World Cup). Now we are refining some aspects connected with logistics and transportation. Everything is on schedule. The city will be ready."
Before, navigating the city's underground system without any knowledge of Russian would have made it seem like a maze.
Now, more and more English is appearing on the metro. As of April, there are now English as well as Russian announcements on the trains at all stations across Moscow. At the end of May, it was announced that around 360 English-speaking employees were working at the metro's ticket counters.
The game of the people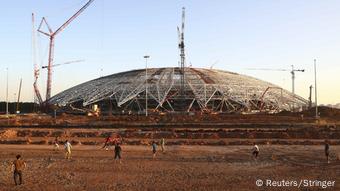 Samara is one of the cities to receive a new stadium
Hosting its first World Cup will provide Russia with an opportunity to present itself to the world. No wonder the country has poured around 10 billion euros into preparation, including into the construction of seven new stadiums across the country.
Showing off the country's good side is important to Russia's politicians, many of whom have been complaining of a smear campaign against Russia - citing the Russian state-sponsored broadcaster RT's recent registration as a Foreign Agent in the US, the ongoing allegations of Russian hacking, as well as the accusations of a Russian state-sponsored doping program in sports.
Back on the outskirts of Moscow, June and July's World Cup still seems far away. It's minus 7 degrees Celsius, but Alexander Murakhin and the other players from the amateur team "Alabushevo" are out on the pitch anyway.
They are playing in hats and gloves and say they don't put any temperature restrictions on their weekly matches. The pitch is slippery with snow but they are clearly enjoying the game. "We may not be playing at the World Cup here, but we still try to play beautifully," he says.
When it comes to the big tournament, he says he can hardly wait to go to a game. "I want to go and see the teams that are coming here with my own eyes."
And no matter how far the Russian team gets in the World Cup next year, he says he'll be sure to keep cheering. "I'll probably support Germany if Russia gets kicked out," he smirks.