Volunteers at a food bank in the Dutch town of Maassluis diligently pack ripe tomatoes and chicory into little bags for those who need it. They only open once a week, and when they arrived this week, it was to find a donation of 32 boxes of fresh produce.
Dutch farmers are not the only ones having to find new ways to ensure their harvest doesn't go to waste in light of Russia's sweeping export ban. They need to shift their fruit and vegetables as quickly as possible, but dumping it on the domestic market would run the risk of a price collapse. In order to prevent that scenario, one idea being mooted is to simply destroy what can't be sold.
"We have to talk to other countries to decide whether it makes sense," Sharon Dijksma, state secretary for economic affairs, said in a news release. "Every market intervention has consequences, so we have to weigh up the best course of action."
Import ban hits farmers EU-wide
Greece, which usually ships half of its stone fruit harvest to Russia and is already ailing as a result of the European economic crisis, stands to be particularly badly affected by the embargo. But speaking on a private television channel, government spokesman Sofia Voultepsi said Athens would offer compensation packages to producers and exporters of peaches and nectarines.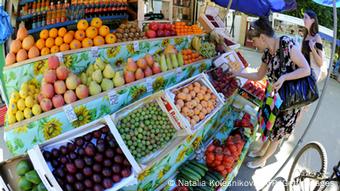 Russia no longer wants fruit and vegetables from the EU
There are also concerns in Austria, where Maria Sauer of the East Austrian Farming Association says low prices have producers worried about their long-term chance of survival. Futures are in jeopardy.
"There is a great sense of uncertainty among farmers here," she told DW. "They have to think about how to run their businesses in the longer term, and they have to compensate for this loss of earnings."
Brussels to the rescue?
The EU Commission has acknowledged the problem. On Thursday, a commission spokesman said it was still too early to draw possible consequences from the Russian food embargo, but that it was imperative to support farmers and find alternative markets for perishable produce.
Earlier this week, Agriculture Commissioner Dacian Ciolos proposed that the European Commission take immediate, retroactive measures aimed at reducing supply and promoting demand of peaches and nectarines. The most important EU producers of the hard hit fruit are Italy, Spain, France and Greece. Collectively the union produces some 2.5 million tons of peaches and 1.2 million tons of nectarines annually.
Maria Sauer is also calling on the big supermarkets to do their part by importing less and selling regional produce. Although there are long-term supply contracts with producers, she is convinced that if there is home-grown produce on the shelves, it will sell.
Innovative advertising
And to increase that likelihood, many EU countries are doing what they can to make consumers aware of the situation and heighten the appeal of local produce. Poland, as the largest apple exporter in the EU and which also traditionally exports to Russia, has launched a campaign under the motto: "An apple a day keeps Putin away." Using photos of themselves biting into apples, Polish consumers are demonstrating their solidarity with the nation's farmers
These photos have been posted on twitter under #Jedzjablka, which translates to "eat apple." Poland's Minister of Interior Bartlomiej Sienkiewicz even posted a selfie.
Poland's advertising campaign has spread across its borders, with apple eating citizens gathering in front of the Russian embassy in the Lithuanian capital Vilnius to protest the sanctions.