Dmitry Medvedev, the first Russian leader to visit Crimea since the region controversially voted to join the Russian Federation, arrived in Simferopol bearing gifts. The prime minister and former president pledged a string of measures designed to boost the peninsula's economy, most notably Moscow's intention to make the region a low-tax, bureaucracy-light "special economic zone."
"As a result of joining Russia, not one resident of Crimea, not one resident of Sevastopol should lose anything. They can only gain," Medvedev said at a special cabinet meeting in Simferopol, after touring the peninsula's main city. "Our aim is to make the peninsula as attractive as possible to investors, so that it can generate sufficient income for its own development."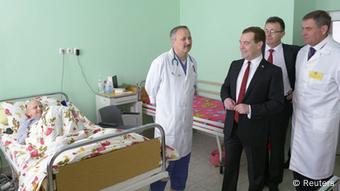 Medvedev said outdated hospital equipment would be upgraded
Prior to the cabinet meeting, Medvedev visited a Simferopol children's hospital, telling staff that new equipment, including ambulances, would be provided. The Russia RIA Novosti news agency quoted him as saying that the hospital's standards "significantly differed from the average Russian level."
He also pledged an increase in salaries for municipal employees and a boost in pension payments.
Reported Russian withdrawal from border
A defense ministry spokesman in Kyiv on Monday told news agency AFP that his staff had observed a gradual withdrawal of Russian troops from its border.
"In recent days, the Russian forces have been gradually withdrawing from the border," the defense ministry's general staff spokesman Oleksiy Dmytrashkivskiy told AFP. "This could be linked to a regular rotation of soldiers, or it may be linked to the Russian-US negotiations."
Dmytrashkivskiy said that the process appeared to have begun around the time of an unscheduled phone call between Russian President Vladimir Putin and his US counterpart Barack Obama on Friday.
German Foreign Minister Frank-Walter Steinmeier said the troop reduction was "a small signal that the situation is becoming less tense."
"I hope we have overcome the worst escalation," he said during a joint press conference with his Polish and French counterparts.
US Secretary of State John Kerry and Russian Foreign Minister Sergei Lavrov also conducted several hours of talks in Paris on Sunday, seeking to calm east-west tensions since Russia's annexation of Crimea. Their official statements after the closed-door discussions had not appeared to reveal a great change in either side's position.
msh,dr/jr (AFP, Reuters)