Alcohol consumption in Russia has dropped by 43% since 2003, according to a report published on Tuesday by the World Health Organization (WHO).
"The Russian Federation has long been considered one of the heaviest-drinking countries in the world," the report said, adding that alcohol was a major contributor to a spike in deaths in the 1990s.
"However, in recent years these trends have been reversed."
The WHO report suggests that Russia's reduction in alcohol-related disease provides a strong argument for an effective alcohol policy as a requirement for long and healthy lives.
Russia's sports-loving president, Vladimir Putin, has introduced a number of measures encouraging Russians to live healthier lifestyles.
These positive choices have resulted in a higher life expectancy, which increased in 2018 to 68 years for men and 78 years for women. In the early 1990s, male life expectancy was just 57 years.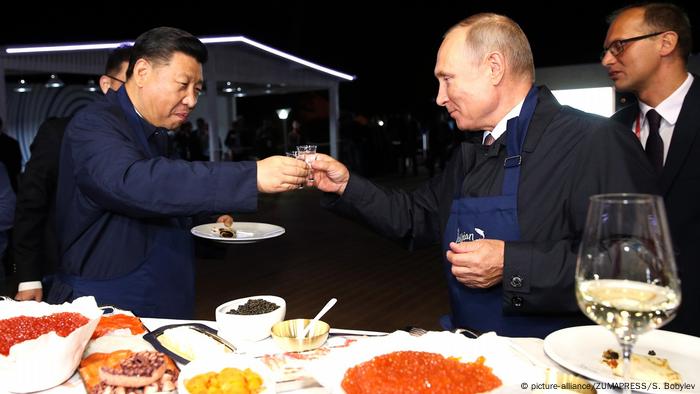 Russian President Vladimir Putin toasts Chinese President Xi Jinping with Russian vodka during the Eastern Economic Forum in September 2018 in Vladivostok, Russia
How did Russia buck the trend?
Raising alcohol excise taxes
Introducing minimum unit pricing on vodka in 2003 and gradually increasing it
Expanding minimum pricing to other alcoholic beverages
Banning off-premises alcohol sales after 11 p.m.
Introducing an alcohol marketing blackout
Restricting alcohol availability in some regions
'Bootleg booze'
The drop in consumption was also driven by a steep decline in demand for illegally produced alcohol, the study showed.
"The dramatic decline in consumption of homemade, smuggled or illegally produced alcohol in the Russian Federation is attributable to the government's adoption of evidence-based alcohol control policies," said the WHO's Carina Ferreira-Borges.
"These results show that measures such as the introduction of monitoring systems, price increases and limited alcohol availability work to save lives and health system costs. I trust that other countries in Europe will adopt similar policies to protect people's health."
Earlier WHO research showed Russian adults now drink less alcohol than their German and French counterparts.
Anti-smoking drive
Meanwhile, a decree banning smoking on private balconies went into effect on Tuesday. The legislation, signed by Prime Minister Dmitry Medvedev, bans any "open fire" on balconies of residential houses or hotels.
"In 60% of cases, the cause of balcony fires is careless smoking," Russia's emergencies ministry said last week, adding that it was not waging war on smokers.
More than 2,000 fires started on balconies so far this year.
kw/rc (AFP)
DW sends out a daily selection of the day's news and features. Sign up here.