Two third period goals saw Russia finish off Finland in the World Championship final on Sunday.
Sergei Shirokov opened the scoring for the Russians 11 minutes into the first period, only for Finland to pull level moments before the break through a goal from Liro Pakarinen.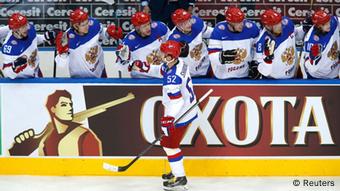 Shirokov opened the scoring for Russia
In the second period, Russia stars Alex Ovechkin and Evgeni Malkin, fresh off the conclusion of the 2013-14 National Hockey League season, restored Russia's lead. One minute after going 2-1 down following Olli Palola's goal for Finland, Ovechkin's backhand tied the game with 12 minutes left in the period.
Malkin's wristed shot high into the roof of the net on a power play eight minutes later gave the Russians the go-ahead goal, and they never looked back.
Danis Zaripov and Viktor Tikhonov, who finished as the tournament's leading scorer, added two more goals in the third period to wrap up the game and secure Russia's fifth gold since the breakup of the Soviet Union in 1991.
Deserved title
It's a welcome victory for Russia after their disappointing performance at the Sochi Winter Olympics in February, when the hosts finished without a medal after suffering elimination at the hands of Finland in the quarterfinals.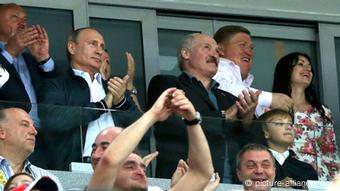 Putin was in the stadium to see Russia win gold
The victory is Russia's 27th World Championship title, and first since 2012. Russia had the added benefit of winning in front of President Vladimir Putin, who was in attendance for Sunday's final at the Minsk-Arena in the Belarussian capital.
The defeat was Finland's seventh loss in a World Championship final.
dr/rg (AP, dpa, SID, AFP)