An Iranian religious organization has reportedly increased the bounty on British-Indian novelist Salman Rushdie's head from 2.1 million euros to 2.5 million euros for allegedly insulting the prophet of Islam 23 years ago. The initial bounty on Rushdie's head was less than a million euros.
Iran's hard-line Jomhoori Eslami newspaper said in a report on Sunday that the "15 Khordad Foundation" would pay the reward to the killer of Rushdie.
In 1989, Iran's former religious leader Ayatollah Khomeini issued a fatwa prompting the calling for the death of British author Salman Rushdie for writing a controversial novel, "The Satanic Verses," which Muslims believed demeaned Prophet Muhammad.
Rushdie said the latest threat was about "one priest in Iran looking for a headline." Rushdie, who was speaking at the launch of his newly published memoir, "Joseph Anton," said that Ayatollah Hassan Saneii's religious foundation had been offering a bounty for quite some time but only few people had taken it seriously.
"Innocence of Muslims"
In his memoirs, Rushdie talks about his life in hiding after a fatwa was issued against him
The controversy surrounding Rushdie has re-emerged after violent protests broke out in a number of Muslim countries - including Libya, Egypt, Afghanistan and Pakistan - against a low-budget US-made film titled "Innocence of Muslims." Pakistan and Afghanistan have blocked all internet access to this film and banned the video-sharing website YouTube altogether. In other South Asian countries like India, YouTube blocked the film itself.
The connection between the film and Rushdie was that "many Muslims see the 'Innocence of Muslims' as an echo of Rushdie's 'The Satanic Verses,' said Emrys Schoemaker, a communication analyst and researcher at the London School of Economics.
He said that in the past, the interaction between people with divergent views had been limited but that had changed with the advent of the information age.
"There is no luxury of isolation anymore. Extremists bump into each other and don't have the skills to debate. The fall out of the whole thing is that these people take radical positions, which are designed to appeal to niche interest groups."
Western policy

Lindsey German, convener of Stop the War Coalition in London, told DW that the reaction to Rushdie and the anti-Islam movie should be looked at in a broader political framework.
"I do not agree with the fatwa that was passed on Rushdie or the increase in bounty on his head. But this is not just about one author. It is about the Western governments' policies in the Middle East. Until western governments change their policies in Muslim countries, these things will continue to happen."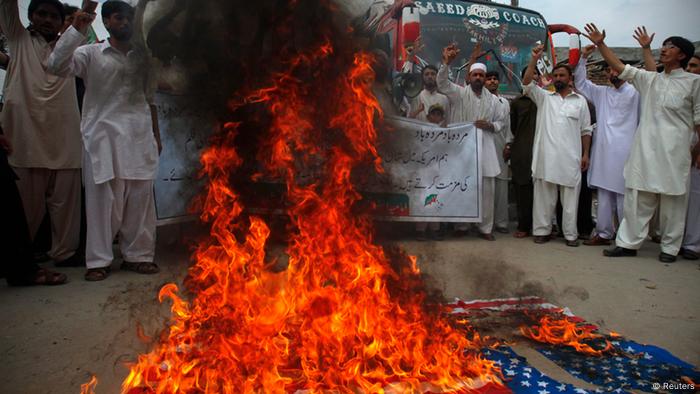 There have been violent protests against the movie in many Muslim countries
Whereas some blame Western policy for the outbreak of violence, Adeel Khan, an expert on Islamic anthropology at Cambridge, said that Muslims needed to "stick to the best examples of their religious traditions," instead of resorting to violence.
"Prophet Muhammad was always merciful and forgiving even to his life-long enemies, and always instructed his followers never to abuse the gods of his enemies," Khan told DW, adding that it would help if people in the West were at the same time "more sensitive to the religious and cultural beliefs of others, especially in today's interconnected world."
Karachi-based Shiite activist Syed Ali Mujtaba Zaidi told DW it was "necessary to remind (the West) again and again that we will not allow blasphemers to continue with their activities, and will make their lives miserable so that others will not follow them."
Freedom of expression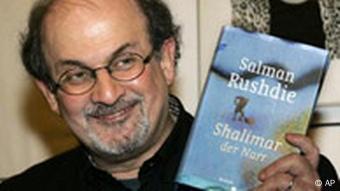 Rushdie was knighted by the British Queen in 2007 for his services to literature
"What Rushdie wrote was acceptable in Britain and the West but not in Muslim countries," Mohsin Sayeed, a Pakistani journalist, explained, adding that the West also showed "double standards" when it came to issues it deemed sensitive.
"The Satanic Verses," said Sayeed, was a "badly-written" novel and should not determine the value of the author, who also penned "The Midnight's Children," a "fine" book about the partition of British India.
"We should not take 'The Satanic Verses' seriously. I think our prophet was much bigger than these trivial things."
Pakistani writer M. Salman Usmani told DW that many people were probably making a fuss over Rushdie without even having read his books.
"The strange thing about controversial writers is that people usually make a fuss over the content and ignore their narrative. Joyce's 'Ulysses,' for example, is a special book because of its narrative … what happened when the novel hit the newsstands was that people took to the streets to protest against its content as well."
Many South Asian writers and literary critics rate Rushdie very highly as a novelist who has contributed immensely to the wealth of English literature.