Polish striker Robert Lewandowski, the most prolific player in the entire Bundesliga since he joined the league in the 2010 offseason, will follow in Mario Götze's footsteps - leaving Dortmund for their Bavarian rivals in Munich.
Unlike Götze, whose deal was worth an estimated 37.5 million euros ($51 million) to Dortmund, Lewandowski will leave for free when his contract expires at the end of the season.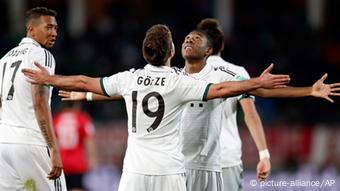 Mario Götze's already bedding in at Bayern
"We are very happy to have secured this transfer," Bayern chairman Karl-Heinz Rummenigge said in a press release on the club's website. "Robert Lewandowski is one of the best strikers in the world, he will strenghten the FC Bayern squad and give us yet another boost. We are really very pleased that both sides today signed a five-year contract."
The transfer was long considered likely, as Lewandowski made it clear almost exactly one year ago that he had no intention of extending his Dortmund deal.
Hanging on to the bitter end
Perhaps as a result of Götze's departure to Bayern - in a season when the Bavarians dominantly reclaimed the Bundesliga title - Dortmund chose not to sell the Polish international while he was still under contract. As of January 1, Bayern were able to make a pre-contract approach for Lewandowski and pick up the player - assigned an estimated market value of 39 million euros by the transfermarkt.de website - for nothing.
Lewandowski, 25, graduated into a first-team regular during the second of Dortmund's back-to-back Bundesliga titles, ousting Lucas Barrios up front. He was the Bundesliga's top scorer in that 2011/12 campaign, and was only narrowly beaten to the honor by Bayer Leverkusen's Stefan Kiessling one year later.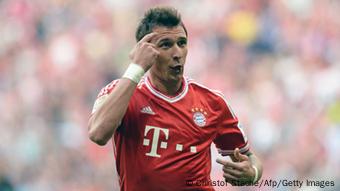 Where does this leave Mandzukic?
In the current campaign, Lewandowski again leads the Bundesliga's scoring charts, tied with surprise front-runner Adrian Ramos on 11 goals. Bayern's nominal first-choice striker Mario Mandzukic, already reportedly dissatisfied with his lot under new coach Pep Guardiola, has 10 league goals to his name.
Dortmund, beset by injuries at the defensive end of the pitch in November and December, trail Bayern by 12 points at the half-way stage in the Bundesliga.
Lewandowski's most famous single appearance for Dortmund was surely the first leg of the Champions League semifinal against Real Madrid last season - when he scored four times around the half-time break. Dortmund ultimately went through courtesy of a 4-3 aggregate scoreline, losing to Bayern in the final at Wembley. A day after Lewandowski's first-leg performance against Real, with the wounds of Götze's departure still raw for the Dortmund faithful, his agent reminded the press of the striker's likely departure.
msh/jlw (dpa, SID)