Robert Lewandowski hit four goals against Real Madrid in the Champions League semifinal on Thursday; in the history of the competition, no other player had even managed three against Real.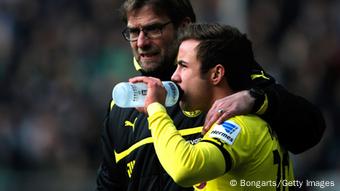 Götze's departure is set in stone now
The evening was bittersweet on multiple fronts, however. Firstly, Dortmund dismantled Real Madrid with Mario Götze's departure to Bayern Munich now public knowledge. But worse still, perhaps, Dortmund's fans already knew that their hero on the night, the tall yet twinkle-toed Pole up top, was most likely next out of the door - sooner or later.
With his client's stock soaring even more - if that's conceivable considering that Lewandowski is on a run of 12 consecutive Bundesliga matches where he has found the net at least once - the striker's agent Maik Barthel saw fit to tell mass-circulation daily Bild that the forward's big-money move was mere months away.
"There is a very interesting offer for Robert, one which meets the criteria set by BVB [Borussia Dortmund] and also satisfies Robert's expectations," Barthel told Bild. "BVB have assured us that Robert will be allowed to move at the end of season under these conditions. We will keep our promises, now it's up to the clubs to create clarity."
In this past January transfer window, Lewandowski was repeatedly linked with Götze's new home Bayern Munich - though giants beyond the Bundesliga's borders like Manchester United have hinted at interest in the past as well.
Dortmund on the defensive
Barthel told the same story to the online portal of German news giant Spiegel, though the same publication subsequently secured apparently conflicting information from Dortmund's commercial boss Hans-Joachim Watzke.
"No, that's not the case," Watzke told Spiegel. "We also have no offer on the table, nothing from another club."
Lewandowski's contract expires in the summer of 2014, at which point he could leave Dortmund for nothing unless he agrees to an extension. Watzke said in the same interview that renewal talks were continuing, that "we will be discussing everything with Robert."
Dortmund's sporting director, Michael Zorc, was even more emphatic when asked by football magazine Kicker.
"This offer does not exist. It is complete rubbish," Zorc said, although Kicker qualified this in their headline by saying that "for Zorc," it was complete rubbish - suggesting at least a lingering doubt in the specialist press in Germany.
Lewandowski himself said on Sky television after his superlative showing on Wednesday that he was "only concentrating" on Dortmund's remaining matches in the current campaign, "as for what happens after this season - we'll just have to wait a little longer."
A closing window
Realistically, if Lewandowski is keen to leave as his agent has said in the past, Dortmund can only cash in on their star striker this summer. By next season's winter transfer window, Lewandowski's contractual status would have reached a point where any club could negotiate a deal for a free transfer the following summer. At this stage, a club is rightly considered a "motivated seller," and a move comparable to Lewis Holtby's bargain basement switch from Schalke to Tottenham this January becomes the most likely scenario.
Bolstered with some 37 million euros ($48.4 million) from the sale of German star Mario Götze, Dortmund are likely keen to retain talent even at a cost.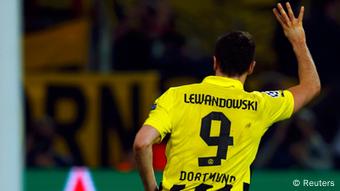 Even more irreplaceable than Mario?
Indeed, one might argue that Lewandowski's position and role is an even more crucial one for the club. Second-string striker Julian Schieber, a summer purchase from Stuttgart, has played only a supporting role since joining Dortmund; and has struggled to impress when granted a chance.
The tall 24-year-old Polish international striker is an attacking all-rounder; good in the air, with two quick feet and even an eye for a pass. He has scored 53 goals in 94 appearances for Dortmund - four of which have helped Dortmund put one foot in the Champions League final at Wembley Stadium in London.