Human rights organizations warned on Tuesday against making support for Afghanistan conditional on Kabul's acceptance of returned migrants, ahead of two days of international talks in Brussels on financial and political aid for the war-torn country.
The director of the German pro-immigration advocacy group Pro Asyl, Günther Burkhardt, called an EU-Afghan deal on returning Afghans from the EU to their country of origin a "complete blackmail of the Afghan government," and described such deportations as "irresponsible" in view of the "desolate" security situation in Afghanistan.
Burkhardt said it was shocking to witness "the breathtaking speed with which the European Union is jettisoning human rights," saying that the deal made it possible to deport even unaccompanied minors.
"Right-wing populist attitudes are increasingly determining political policies on the ground. The EU is causing lasting damage to the protection of human rights and law on refugees," he added.
Amnesty International also urged donors at the conference on Tuesday and Wednesday not to make their pledges contingent on Kabul's agreeing to take back its returned citizens.
"It would be inadmissible that any agreement forged in Brussels makes financial assistance for Afghanistan conditional on the Afghan government's cooperation to accept the readmission and return of asylum seekers," a statement on Monday evening from Amnesty's Said Horia Mosadiq said.
Migrant deal with Kabul
The EU said on Monday it had struck a tentative deal with Kabul over taking back migrants whose asylum applications had been rejected, but officials denied that aid pledges would depend on Afghanistan's compliance.
The deal, struck on Sunday, aims to facilitate the provision of travel documents and allow the use of Afghan airports, while the EU would pay for flights and reintegration programmes, according to information gleaned by the DPA news agency.
EU officials say that under the deal, unaccompanied minors can be returned only if their families have been identified and their well-being is assured. They said single women and old or sick people would have their cases individually examined.
The EU is legally obliged under international treaties to give shelter people fleeing from war and persecution, but can reject those deemed "economic migrants" and return them to their homes if their country of origin is considered safe.
According to a leaked confidential EU paper from March, there are plans to possibly return some 80,000 Afghans currently seeking asylum in the European Union to their home country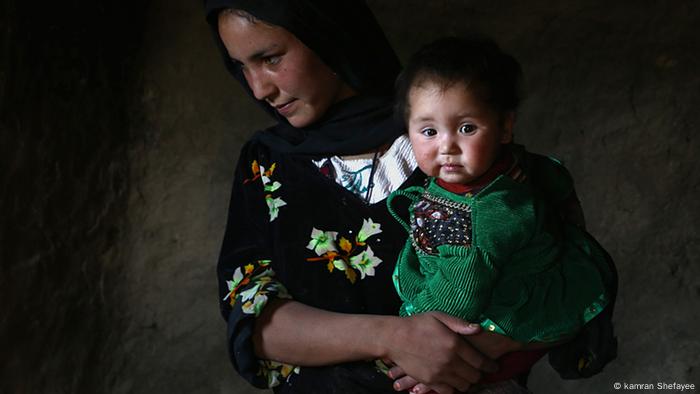 The EU has pledged to carefully examine cases of single women, sick and old people and unaccompanied minors
Continued instability
The Brussels conference will bring together more than 70 countries and up to 30 international organizations with the aim of obtaining pledges of aid to Afghanistan until the end of 2020. The country remains one of the poorest and most politically unstable nations in the world, despite the billions of dollars in assistance it has received over the past 15 years.
Security remains a major concern, with Afghan forces ill equipped and trained to put down an ongoing insurgency by the Islamist Taliban, the country's former rulers. The extremist group "Islamic State" also poses a growing threat in the country.
The conference is overshadowed by fighting in the Afghan city of Kunduz, where government forces are fighting to recapture the city following a Taliban offensive.
tj/kl (dpa, AFP, KNA)