Memorial said it had decided to suspend its operations in Chechnya because its work there was "life-threatening."
Alexander Cherkasov, a Memorial board member, told Russian radio station Echo Moskvy that the group could not risk it any further.
"This murder has shown that working in Chechnya is fatally dangerous and we cannot risk the lives of our colleagues, even if they are ready to carry on their work," Cherkasov said.
Memorial did not say for how long operations would be suspended.
Natalya Estemirova, one of the group's most prominent activists, was abducted from outside her home in the Chechen capital Grozny on Wednesday. Her body was found a few hours later with gunshot wounds to the head and chest.
She had conducted extensive research into war atrocities during the Chechen uprisings of the past 15 years, and had accused the current Russian-backed Chechen government of committing crimes against residents who support Chechen independence.
Kadyrov to sue Memorial head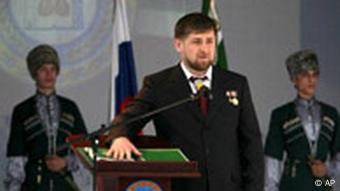 The Kremlin attributes recent stability in the region to Kadyrov's leadership
The lawyer for Chechen President Ramzan Kadyrov says the pro-Kremlin leader plans to sue Oleg Orlov, the head of Memorial, for defamation. Orlov has accused Kadyrov of being responsible for Estemirova's death.
Kadyrov's lawyer told the Interfax news agency that he was sure the case would be won.
"I have prepared and will file to court a complaint on protecting the honor, worthiness and professional reputation of the president of the Chechen Republic, Ramzan Kadyrov," his lawyer said.
Kadyrov has promised to find those responsible for Estemirova's murder.
Author: ca/dpa/AFP/AP/Reuters
Editor: Nigel Tandy