The two leaders met near the southern city of Munich before being joined by key members of both governments, including the ministers for the interior, environment and economy.
The killing of Russian human rights activist Natalya Estemirova in Chechnya on Wednesday featured prominently in the meeting.
Speaking at a news conference with Russian President Dmitry Medvedev on Thursday, German Chancellor Angela Merkel described Estemirova's killing as an "unacceptable event."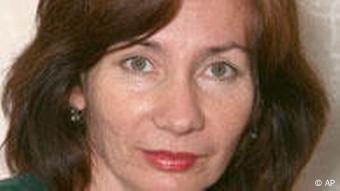 Estemirova's killing has sparked international outrage
Merkel said that the murder had "played a role" in her talks with the Russian president, who she said had assured her that "everything would be done to clear everything up."

Estemirova was the latest in a string of campaigners to be killed in Russia.
Thursday's talks were part of the semi-annual top-level intergovernmental consultations between the two countries known as the "Petersburg Dialog."
Merkel signals support for Magna-Sberbank bid
The two leaders also discussed foreign policy issues such as Iran and North Korea and the fight against terrorism, human trafficking and organized crime.
But the meeting was dominated by the two countries' substantial and growing economic ties which have been hit by the global financial crisis.
Germany is Russia's single biggest trading partner with bilateral turnover amounting to around 43 billion euros ($60 billion) last year. But Sergei Prikhodko, the Kremlin's chief foreign policy aide, told reporters this week that trade between Germany and Russia more than halved in the first quarter of 2009 compared with the same period last year.
Merkel said the strategic partnership between Russia and Germany is a "central element" in overcoming the economic crisis.
A pressing economic issue was the possible takeover of troubled German carmaker Opel by Russian-backed Canadian auto parts maker Magna International.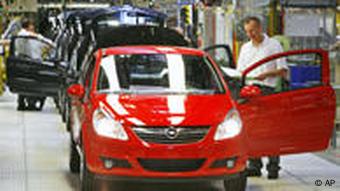 Russia's Sberbank, together with Canada's Magna, is interested in troubled car maker Opel
Merkel appeared to back the Magna-Sberbank bid. She said it presents "excellent starting points" but added that her government still needs to "clear up" questions.
Berlin agreed in late May to support a bid for a majority stake in Opel by Magna, which has teamed up with state-owned Russian bank Sberbank and Russia's second-largest auto maker GAZ. An estimated 26,000 German jobs are at stake.
Medvedev said his government supported the Magna-Sberbank bid for Opel.
"We are interested and optimistic about this project and will do everything to realize it," he said.
But General Motors has also received interest from Brussels-based investment group RHJ International and from China's Beijing Automotive Industry Company (BAIC) for Opel, throwing the deal into some doubt.
Trade issues dominate
The two governments also signed a slew of economic partnership deals, including a 500-million-euro ($357 million) credit agreement.

The agreements included a joint declaration on energy cooperation and an agreement between Russian Railways and Siemens to establish a joint venture to produce locomotives.
In addition, Frankfurt airport operator Fraport is to participate in the expansion of the airport in St Petersburg. The two leaders did not comment on news reports that Russian oil giant Gazprom is interested in a takeover of bankrupt German shipyards in the northern cities of Wismar and Rostock.
Energy security on the agenda
The two leaders also discussed energy security issues. Russia supplies a quarters of Europe's gas needs and Germany is Europe's biggest customer for Russian gas.
Merkel signaled that she was keen to avoid another row with Russia over gas supplies. The German leader stressed the importance of the Nord Stream gas pipeline, an ambitious project to deliver Siberian gas to Europe under the Baltic Sea.
"We think this project is strategically important and necessary," Merkel said.
Russia says the Nord stream gas pipeline is part of its plan to increase gas volumes and step up the reliability of Russian gas supplies to Europe, now largely dependent on Russia's thorny political relations with ex-Soviet Ukraine.
sp/dpa/Reuters/AFP
Editor: Neil King