A spokesman for exiled Yemeni president Abed Rabbo Mansour Hadi told the news agency Reuters on Sunday that the unprecedented talks in Oman had been initiated at American request.
A private American plan had carried Houthi rebel representatives to Oman's capital Muscat, said Rajeh Badi, the spokesman for Hadi in Riyadh.
Saudi Arabia, a key US ally, has led a coalition of Middle East nations in air strikes on Iran-backed Houthi Shiite rebels since late March. But, Oman, a frequent peacebroker in the region, has avoided a role in the Saudi airstrikes.
Since seizing the capital Sanaa earlier this year, the rebels have advanced from northern strongholds into southern Yemen.
Americans held by rebels
Responding to a Washington Post report on Sunday that at least four Americans were being held by rebels, the US State Department said it was "doing everything" to get them released.
It did not provide an exact number or circumstances of those reportedly held.
The Washington Post said three of the captives held private sector jobs in Yemen. The fourth was a dual US-Yemeni citizen, it said.
Air raids continue
Saudi-led aircraft continued bombing of Houthi positions throughout Yemen on Sunday, according to Reuters.
Houthi al-Masira television said 25 air strikes had been directed on the main Houthi provinces of Saada and Hajja near the border with Saudi Arabia.
There was no immediate confirmation by Saudi authorities.
On Saturday Houthi television said the rebels had fired rockets at the Saudi border city of Najran. Saudi Arabia said one border guard was killed and seven others wounded.
From the central Yemeni city of Taiz, residents spoke of Arab air strikes on Houthi forces who have waged battles with Hadi loyalists.
UN bid for talks in Geneva
Reuters said the UN envoy to Yemen, Ismail Ould Cheikh Ahmed, had renewed efforts to set another date for talks in Geneva between the Yemeni factions after a bid failed a week ago.
As a precondition to those talks, Hadi had demanded that the rebels comply with a UN resolution by withdrawing Yemen's main cities and recognizing his authority.
The Houthis have said their expansion was part of an uprising against hardline Sunni militants and corrupt officials. They want an end to air raids before negotiating.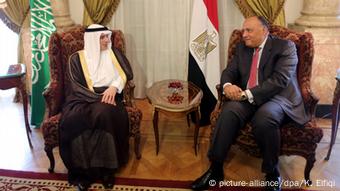 Sharing their "common vision" - al-Jubair (L) and Shoukry
'Common vision,' say Egypt, Saudi Arabia
In Cairo on Sunday, Egyptian Foreign Minister Sameh Shoukri said Egypt and Saudi Arabia shared a "common vision" on "how to deal with the situation in Yemen."
Shoukri was speaking at a press conference with visiting Saudi counterpart Adel al-Jubeir.
al-Jubeir accused Iran of being the "only state that interferes in the affairs of the region."
Iran, which has sent several shipments described as humanitarian to Yemen, denies supporting the Houthis militarily.
Cluster bombs used, says HRW
Human Rights Watch (HRW) on Sunday said it suspected that widely banned cluster bombs dropped on Saada province had originated from Saudi-led forces.
Six Yemenis, including an 10-yaer-old boy were wounded, said HRW, adding that cluster bombs "can't distinguish military targets from civilians."
Another incident on May 23 did not cause casualties, it added.
Ipj/bw (Reuters, AFP, AP)