Right-wing rock concerts, far-right party meetings with musical acts, and so-called "Liederabende" (song recitals) are on the rise across Germany, "Die Welt" newspaper reported on Saturday.
In the first six months of 2016, a total of 98 such events have already taken place, the newspaper said, citing an Interior Ministry response to an information request from the Left Party.
Of that total, around 40 were rock concerts and 49 "Liederabende" - where right-wing extremist singers and songwriters perform to small audiences.
'Safe haven' for the far-right scene
Although the events take place all over Germany, the central state of Thuringia was the uncomfortable home to 14 events so far this year, according to data from the Interior Ministry.
In fact, a right-wing music festival called "Rock gegen Überfremdung" - which roughly translates to "Rock against foreign infiltration" - is set to take place in the small Thuringian village of Kirchheim on Saturday.
The migrant crisis-themed rock festival is expected to draw around 800 neo-Nazis - more than the number of inhabitants in Kirchheim, "Die Welt" reported.
"There is a risk that Thuringia will become a safe haven for all types of extremists, since they must feel less exposed to persecution here," Thuringia state parliament member Andreas Bühl told the newspaper. He criticized a lack of security personnel for the rise in right-wing extremism in the state.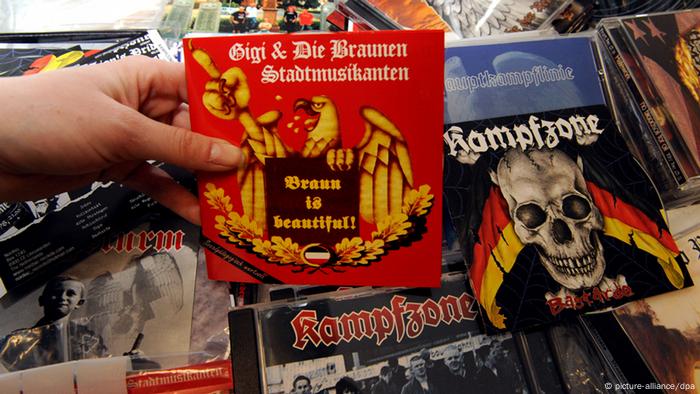 Right-wing rock concerts have been especially picking up on fears surrounding an influx of refugees in 2015
A troubling trend
Compared to the first half of 2015, the number of right-wing musical events has risen sharply in the first half of this year.
Between January and June in 2015, a total of 63 right-wing musical events took place. With this year's figures already up to 98 events, 2016 is possibly on track to surpass last year's record.
The number of right-wing extremist musical events taking place in Germany has hit a four-year high, Germany's domestic intelligence agency (BfV) reported. Last year, the agency clocked 199 musical events.
However, 2016 has already surpassed last year's records. In May of this year, the largest far-right musical event in recent years took place in the Thuringian town of Hildburghausen, the BfV reported on its website. Around 3,500 visitors from Germany and some neighboring European countries traveled to the festival "Rock for Identity - Music and Speeches Against the Abolition of Germany."
In comparison, the largest right-wing rock concert last year drew 650 visitors.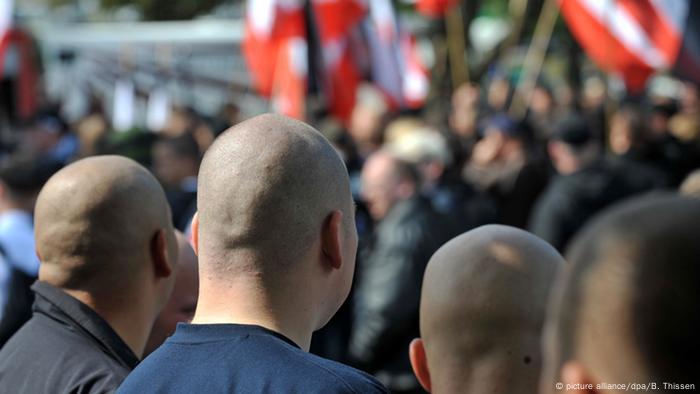 Authorities are concerned about youth recruitment during right-wing rock concerts
Rock concerts as 'gateway drug'
The data on right-wing musical activities goes back years, which begs the question: Why keep tabs on right-wing musical activities?
In its government information request, the Left Party cited "numerous studies" which prove the importance of music to right-wing extremists. They said right-wing rock music and concerts served as a "gateway drug" for newcomers and especially teenagers.
The Left is not alone. On their website, the BfV says the "right-wing extremist music scene" has been under strict surveillance since the 1990s.
Recent crime statistics released by the BfV show a spike in far-right violence in Germany last year, as well. The agency also noted the importance of musical events for establishing first contacts with possible new recruits and for maintaining party relationships.
According to the BfV, live concerts for right-wing extremists are "a means of self-expression," a place of belonging. They are spaces to communicate not only about values, but enemies as well.