At this moment it seems unimaginable, but 20 years ago German teams won each of European club football's two most prestigious trophies. Bundesliga rivals Schalke and Borussia Dortmund picked up the UEFA Cup (now Europa League) and the Champions League title respectively.
As German football fans pick apart the wreckage of a season that's seen two of Germany's three qualifiers dumped out of the Champions League in the groups, Cologne and Hertha Berlin out of the Europa League at the same stage and Hoffenheim fall at the first hurdle in both competitions, questions are inevitably being asked about the strength of the Bundesliga and its clubs.
This is the first time no German team has advanced from the group stages of the Europa League, Hoffenheim and Hertha are the first German teams to finish bottom of a group and Dortmund are the only team to have qualified for the Europa League despite only picking up two Champions League points.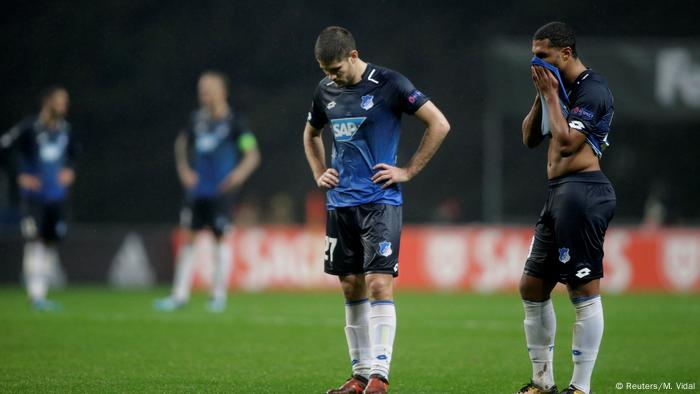 Hoffenheim have already exited two European competitions
Along with Spain and England, Germany has held four Champions League spots since 2011 but having slipped two places in the UEFA coefficients in the last year — and ranked just ninth on UEFA's current points list for the current campaign — their lofty status is under threat.
Shocking statistics
In 40 matches played by German teams in Europe this campaign, 21 have been lost and only 11 won. Excluding Bayern, that record is six wins from 34 games.
That measly return will dramatically effect the five-year coefficient that determines the number of European spots a league is awarded. The Bundesliga is now way behind Spain, England and Italy by that measure and the gap to France, in fifth, is shrinking by the year. France also have four teams left in European competition. Should the French leapfrog Germany, the Bundesliga will have just three Champions League teams – although this won't happen before 2019-20.
German media have reacted as one might expect to the development, which has caught many by surprise. Sport Bild spoke of a "debacle" in Europe while website Sport1 said only Bayern had prevented "total embarrassment."
Problems not neccessarily financial
Among the naval gazing, there has been some suggestion that the financial advantages of clubs such as Paris Saint-Germain and Manchester City are artificially widening the sporting gap, though all of the German sides to have stumbled this year have lost to sides from much less prestigious leagues.
So, perhaps it's the league itself that's the issue? While the Bundesliga has a hard-earned reputation for affordable football with atmosphere (despite this season's protests against the DFB and RB Leipzig) there's little denying it's a one-horse race right now. Bayern Munich have won five titles in a row - with an average point gap of 16 to the team finishing in second - and are heavy favorites to make it six.
This lack of competition has, at times, been cited as a reason why Bayern have't quite lived up to their European billing. But their domestic dominance also means ambitious young German players who want to stay in the Bundesliga see Bavaria as the only place where they can compete for the big prizes.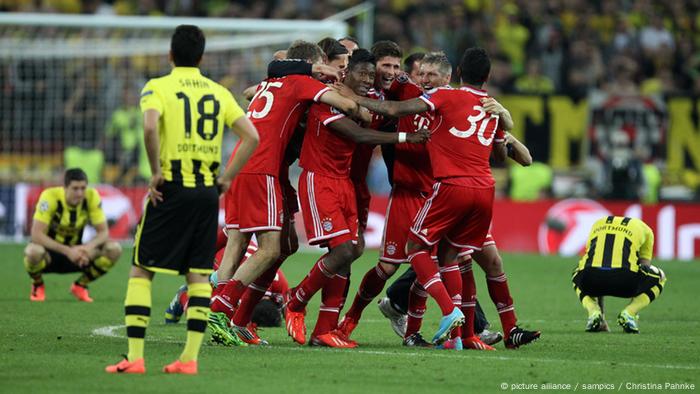 Bayern Munich beat Borussia Dortmund in the 2013 Champions League final
Niklas Süle, Mario Götze, Sebastian Rudy, Mats Hummels, and Robert Lewandowski are just a few of players who made their mark at other clubs before being snapped up by Bayern in the last five years - with Schalke's Leon Goretzka expected to follow suit next year.
Mind the gap
While this strengthens Germany's best side, it appears to weaken the league as a whole. It's an inexact measure but, with teams outside of the traditional elite making up the bulk of the draw, the Europa League does offer an indicator of a league's strength in depth - and the statistics don't make encouraging reading for the Bundesliga. Of the 20 finals played since Schalke's win, just two German sides have made the final (Werder Bremen in 2009 and Dortmund in 2002) and neither won.
In that time, teams from Spain have won the trophy eight times and been runners up three times. Clubs from England, Russia, Portugal, the Netherlands, Turkey, Ukraine and Italy have also been victorious, some more than once.
This season may have presented extreme symptoms but it seems German football's general malaise is serious. No cure seems perfect, or simple, but it's increasingly clear that it's time to look at some new treatment plans.