Just because you've only been in a city for six months doesn't mean you can't show locals something new about the place. Samer Serawan and his wife Arij Oudeh arrived in Berlin last November, and now they are the German capital's newest tour guides. And it turns out they have a lot to teach even the most hardened Berliners about Neukölln, one of the noisiest and most densely populated areas of the city.
"What do you call this street?" Samer asked the group, pointing to one of the crowded streets, which today, a sunny Saturday afternoon, is streaming with weekend shoppers who have to somehow drag their shopping bags through the little cluster of tourists.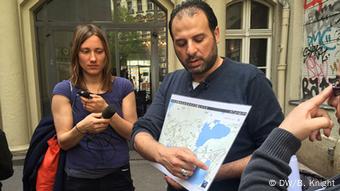 Samer explains his 30-day journey from Damascus to Berlin
"Sonnenallee," someone suggests, correctly. The question isn't very hard.
"For you it is Sonnenallee. We call it Arab Street," Samer says - and it is. From where we're standing, almost every other shop on this long street now has an Arab name, which is why many Syrian refugees - or "newcomers," as Samer always calls them - have gravitated towards it.
This is where he and Arij go to spend some of the 90 euros ($100) they get from Berlin authorities per month, because here they recognize the food on the shelves of the supermarkets, and they know they can speak Arabic to shopkeepers.
New tour guides
The tours were set up by Querstadtein, an organization that offers alternative tours given by marginalized groups - people who are talked about in the media a lot more than they are listened to. While Querstadtein also offers tours by homeless people, Samer and Arij are the group's first refugee guides.
The two-hour walk, which costs 6.50 euros, begins wedged between some road works and a Woolworth, where Arij shows us what she calls "the best Arabic restaurant in the area," an unremarkable-looking shawarma shop called Shaam. The word, we learn, means "mole or beauty spot." Among other things, the tour turns out to be a good way of learning basic Arabic vocabulary. (At one point, everyone gets cards with Arabic words on them, and is asked to find the shops that go with them.)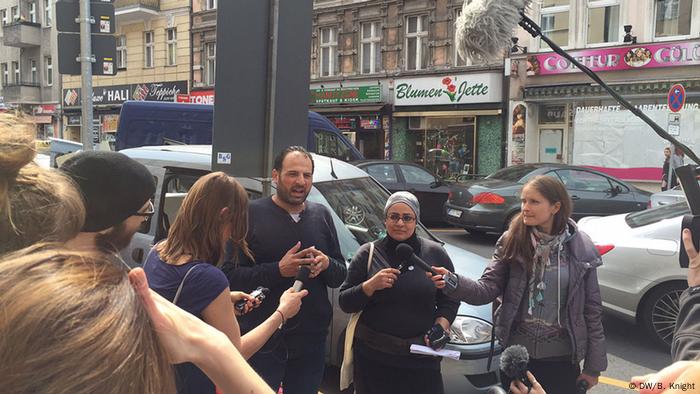 The tours are weekly in the nation's capital
Along the way, Samer and Arij tell their story, with the help of a map of southeastern Europe marked with their 30-day journey from Damascus. That involved a dangerous border crossing into Turkey and a rubber boat from Izmir to Greece. ("The boat had a capacity of 17 people, but there were 47 on it," says Samer.) After that, they trekked along the now-closed "Balkan route" before arriving in Germany.
They also explained why life in Damascus was no longer viable. "We lived a very stable life," said Samer, before the war began in 2011. Both had studied law, though Samer made his living as a manager of a chocolate milk factory. After five years of conflict in the region, he said he could no longer make a living because the battle lines moved between his home and the factory. He is no longer sure whether the factory is still standing.
Learning the places of Berlin
In Berlin, the married couple spent several months living in the canvas boxes inside the hangars of Tempelhof - the historic disused airport that was converted into a temporary mass shelter last year, when Berlin took in around 80,000 refugees (some 50,000 have stayed in the city). Then they were moved to housing near the Wannsee lake - a long way from the Neukölln supermarkets, but where they have a room to themselves.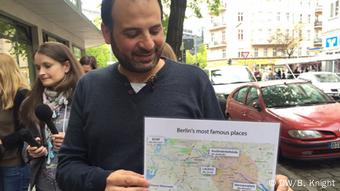 Samer's map of 'Berlin's most famous places'
On the tour, we see the bank where Samer stood in line for several hours to open a bank account, the cellphone shop that offers prepaid cards (refugees can't get contracts), and finally the Refugio cafe for refugees. Meanwhile, we hear the couple's experiences of the LaGeSo, Berlin's notoriously disorganized Health and Social Affairs office where refugees often lined up for days and weeks waiting for an appointment. Samer said they spent 11 days there.
It's this slow bureaucracy that makes the process of integration so tortuous - it was only after months, Samer said, that he and Arij were able to get onto German lessons. But he is determined: "It is very important that we start to integrate quickly," he said. "Otherwise you have a society in a society."
If you're a newcomer, the LaGeSo is one of the key places in Berlin, as Samer shows on a laminated map of the city entitled "Berlin's most famous places," - the others are the foreigners registration authority (Ausländerbehörde), Neukölln's central Hermannplatz, and the headquarters of the Federal Office for Migration and Refugees (BAMF) in Spandau.
This, it turns out, is maybe the most vital place, a place that refugees have taken to calling "the Court." Samer said, "We imagine that there is a judge there, who says 'yes or no', about whether we can stay in Germany or not."