Berlin's tight housing market will get some small, but possibly much-needed relief on May 1, with the end of the transitional phase of its new law banning unregistered holiday apartments.
From the end of this month, landlords in the German capital will have to apply for special permits to rent their apartments out to tourists, or face fines of up to 100,000 euros ($113,000). Renting out single rooms is still allowed, provided the landlord also lives in the apartment.
Major online mediators have already taken steps to ensure their users are abiding by the law. "Die Zeit" newspaper reported on Wednesday that Airbnb has begun removing some Berlin entries from its site.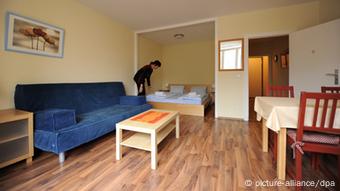 The Berlin government is encouraging neighbors to report holiday apartments
Some 6,300 apartments could be brought back onto Berlin's regular rental market as of next week - though some see that as a drop in the ocean in a city of 1.9 million apartments and an estimated housing shortfall of over 100,000 units.
Major problem, or not?
Rents in Berlin are rising fast. The city is welcoming some 40,000 new inhabitants every year (not including the influx of some 50,000 refugees that arrived in 2015). In an analysis published in January, the real estate investment firm CBRE found that there had been an average five percent rise in rent prices across the city since 2014, and a seven percent increase in the city's central Mitte district.
But it's unclear exactly how many apartments in Berlin in total are being rented out to holidaymakers and other visitors. A study last year by the German property developer GBI put the figure at 24,000 - which suggests that only about a quarter are being rented out legally. Wibke Werner, deputy director of the Berlin tenants association, says estimates vary from between 12,000 and 29,000 apartments.
Since the new law was introduced in 2014, local district councils have started appealing to residents to report suspected holiday apartments via a special anonymous online portal. Now the authorities are ramping up the pressure even more - with some 34 additional positions being created to carry out spot checks, while online services like Airbnb and Wimdu are being forced to pass on information about landlords.
The new ban represents a major headache for such businesses - Berlin is by far the biggest market in Germany for private holiday rentals. GBI estimated that some 6.1 million overnight stays in the capital per year are in private properties - more than three times as many as the second city on the list: Hamburg, where there were two million privately rented overnight stays.
Not cheaper
So it's unsurprising that Roman Bach, CEO of the online portal 9flats, is pretty blunt about it. "This law is one of the most stupid pieces of legislation that ever happened in Germany," he told DW. He also questioned whether there really are 24,000 holiday apartments for rent, arguing that many apartments may have been counted twice because they appear on different platforms.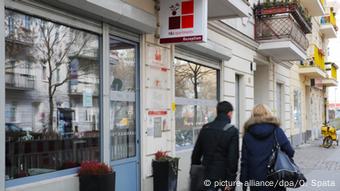 A typical apartment building in Berlin where visitors rent for short stays
"However, let's assume this 20,000 number is real," he said. "Even if you get those 6,000 back onto the market, how many cents per square meter do you think your current rent will be lower, or your new rent, with 100,000 or 140,000 units still lacking on the market? Do you think you will get a cheaper apartment?"
Werner, of the Berlin tenants association, agrees that the direct impact of the law will be small - but that doesn't make it unnecessary. "It's more of a signal," she told DW. "We have to make clear that rental apartments that exist and are affordable should be available to tenants. The rental market is getting tighter and tighter and we have to try and protect every single rental home."
Werner also thinks it's more than high time that something was done. "The government could've acted quicker," she said. "The law depends on there being an intense property market, and for many years the Berlin government denied this."
Other holiday home platforms argued that the negative impact of holidaymakers are more than matched by the benefits: "We understand the concerns of the authorities in Berlin, although we do not share them," Aye Helsig, regional director for the international platform HomeAway/FeWo-direkt, said in an emailed statement. "The vast majority of guests in holiday homes are families who do not pose a particular disturbing factor in residential neighborhoods. It is worth noting that families on holidays contribute much revenue to the local economy."
"Berliners want clear and simple rules for home sharing, to make it still possible for them to share their own homes with guests," an Airbnb spokesman told DW in a statement. "They have understood that home sharing is different from other types of accommodation in the city and helps a lot of Berliners to pay their rent."