At first glance, Souda beach on Chios, a small island of only 60,000 residents in the Aegean Sea just 7 kilometers (4 miles) off the Anatolian Coast, looks vibrant. The beach is full of people laughing, swimming and fishing. This image would have been the ideal promotion for a summer in Greece; however, the reality is different. Souda has become a refugee camp that hosts thousands of people and is run by the municipality of Chios.
Surrounding the island's Venetian walls, a residential area and a beach, the camp is stretched beyond capacity. As a result, camping tents have been set up by the residents on the beach.
It's fair to say that Souda is one of the worst refugee camps in the country, and Chios - which once welcomed refugees - has turned into a detention center with close to 4,000 people trapped in what looks like an open-air prison.
Conditions are atrocious and getting worse by the day, and there appears to be little to no help from the local authorities and the Greek government. Attempts by DW to get a response from the Greek minister of migration and local authorities on Chios were unsuccessful.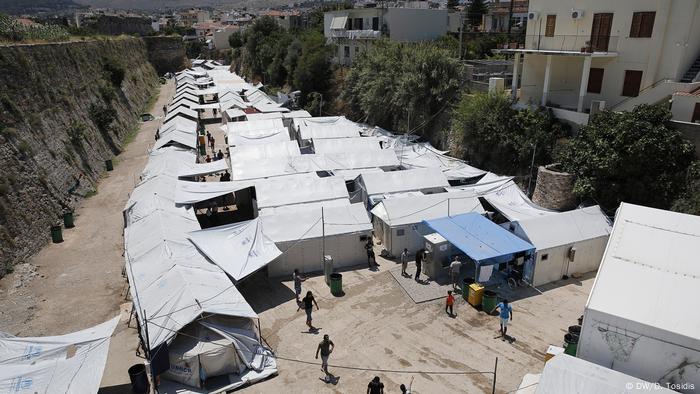 The serene surroundings are deceptive
Read more: Migrants, local residents clash on Greek island of Chios
Squalid conditions
In one of the tents on the beach, next to the sewage system, DW met Wallid and Farah, a couple from Damascus, Syria, who arrived in Chios crammed in a boat. Farah, 20, is heavily pregnant and expecting a boy. Wallid, 31, used to be a tourist guide for Cypriot tourists in Damascus and speaks Cypriot Greek like a local. They used to live in the Vial refugee camp on Chios, which is operated by the Greek government and the army.
"We left Vial because the conditions were horrible and Farah was in hospital due to food poisoning," said Wallid. Crammed in a container with eight other people, their only choice was to go to the beach in Souda and live in a tent next to the sewage.* Rats and snakes are daily companions.
"We don't mind living in Greece despite the difficulties the country has. I speak the language, so it will be easy. I just don't want to stay in Chios," he said.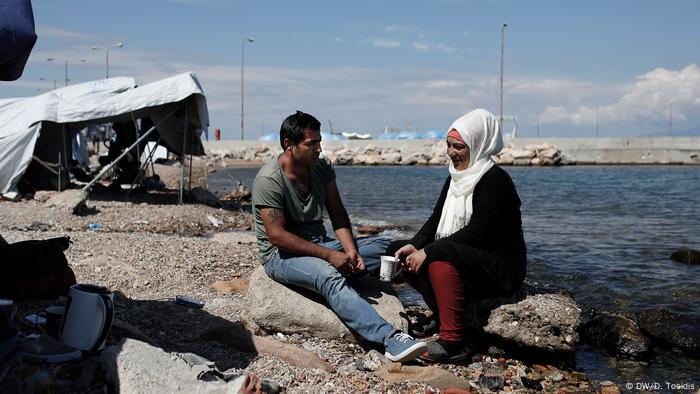 Wallid and Farah face an uncertain future
At the end of July, the Greek government will take over completely the coordination of the refugee crisis as well as the allocation of European funds. This means that several nongovernmental organizations (NGOs) will end their operations on the island and will essentially leave thousands of people without support and services.
Read more: EU-Turkey refugee deal overburdens Greek islands
"The island is without any doubt in a critical condition," says Arianne Migne, area manager of the Norwegian Refugee Council on Chios (NRC). "However, we don't really know what will happen once the government takes over," she told DW.
Drugs, theft and violence
Violence and beatings among different ethnicities are common as is drug dealing. For 15 euros ($17) people can buy marijuana and pills. Everyone speaks about this trade but no one is doing anything to find a solution, apart from the odd police operation to arrest those who sell drugs inside the camp.
"You have to live in Souda for more than a week to understand how bad the conditions are," said Fathi 30, from Algeria. Fathi and one of his friends were unable to pay smugglers and swam from the Turkish coastline first to mainland Greece and then to Chios, until they were picked up by the Greek coastguard just a mile out from the island. His friend, however, managed to leave the island by hiding under a truck. Fathi has tried three times so far but without success.
For Fathi and many others the only way out of Chios is to risk their lives by hiding inside or under trucks. Once they arrive in Athens, a new journey begins. They cannot apply for asylum on the mainland, leaving them with two options: go back to the islands or try to leave the country.
Deceptive asylum procedures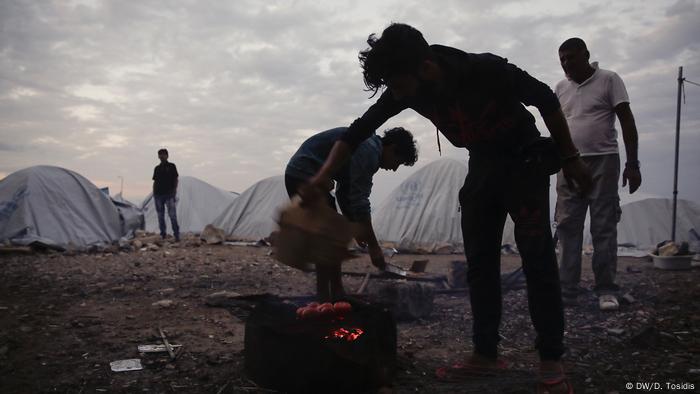 Refugees are struggling with the poor conditions and petty bureaucracy
According to all those that DW spoke to, the asylum procedure takes too long and most are turned down. For Syrians, in particular, there seems to be a different procedure.
Read more: Desperation grows in Greece as asylum process drags on
Ibrahim**, 20, is from Damascus and accuses the asylum workers and specifically those who are working with the European Asylum Support Office (EASO) of only taking into account his time in Turkey. However, he only spent two weeks in the neighboring country while waiting to take a dinghy to Greece. He is not the only one. All of the Syrians DW spoke to tell the same story. In addition, they speak of intimidation used by the asylum personnel.
"They told me if I want to apply for asylum, I will have to spend years in Chios. I cannot stay here for years. So I signed the document they gave me," said Ahmed**, also from Syria.
The document he was holding was his application withdrawal, in which he declared he would no longer pursue asylum in Greece. However, he did not seem to be aware of the document's contents despite signing it.
In another case involving twin brothers, refugee status was granted to one while the other is to be deported to Turkey. They both had the same story.
According to an activist who has been reporting on the situation in Chios, people vanish in no time. No one is informed where they are taken, whether they are in police custody, transferred to detention facilities on the mainland or sent back to Turkey.
With arrivals continuing on all the Aegean islands - including Chios - and a lack of political will on a local and national level, the situation on Chios is becoming increasingly untenable.
*A few days after DW spoke to Wallid and Farah, they were given accommodation.
**Names have been changed.