In the first half of November, 1,750 new refugees from the Democratic Republic of Congo and South Sudan entered Uganda. This brings the total from these two countries for this year to 100,000. According to the United Nations High Commissioner for Refugees (UNHCR), 1.4 million refugees live in Uganda, men, women and children who need food, a roof over their heads and healthcare.
Uganda, itself a developing country, is a front runner when it comes to progressive refugee policy. Duniya Aslam Khan, UNHCR spokeswoman for Uganda, explains: "Refugees are granted freedom of movement, they have access to medical and educational institutions and have the right to work." But, she says, schools and hospitals are not well enough equipped and the local population also needs to be provided with these services.
"Uganda wants to offer a life worth living to refugees and is therefore sharing all the little it has. This should be an eye-opener for wealthy states from the west and America when they talk about funding," Khan said in an interview with DW.
Every family, after being registered and given refugee status, is allocated a piece of land for living and cultivation.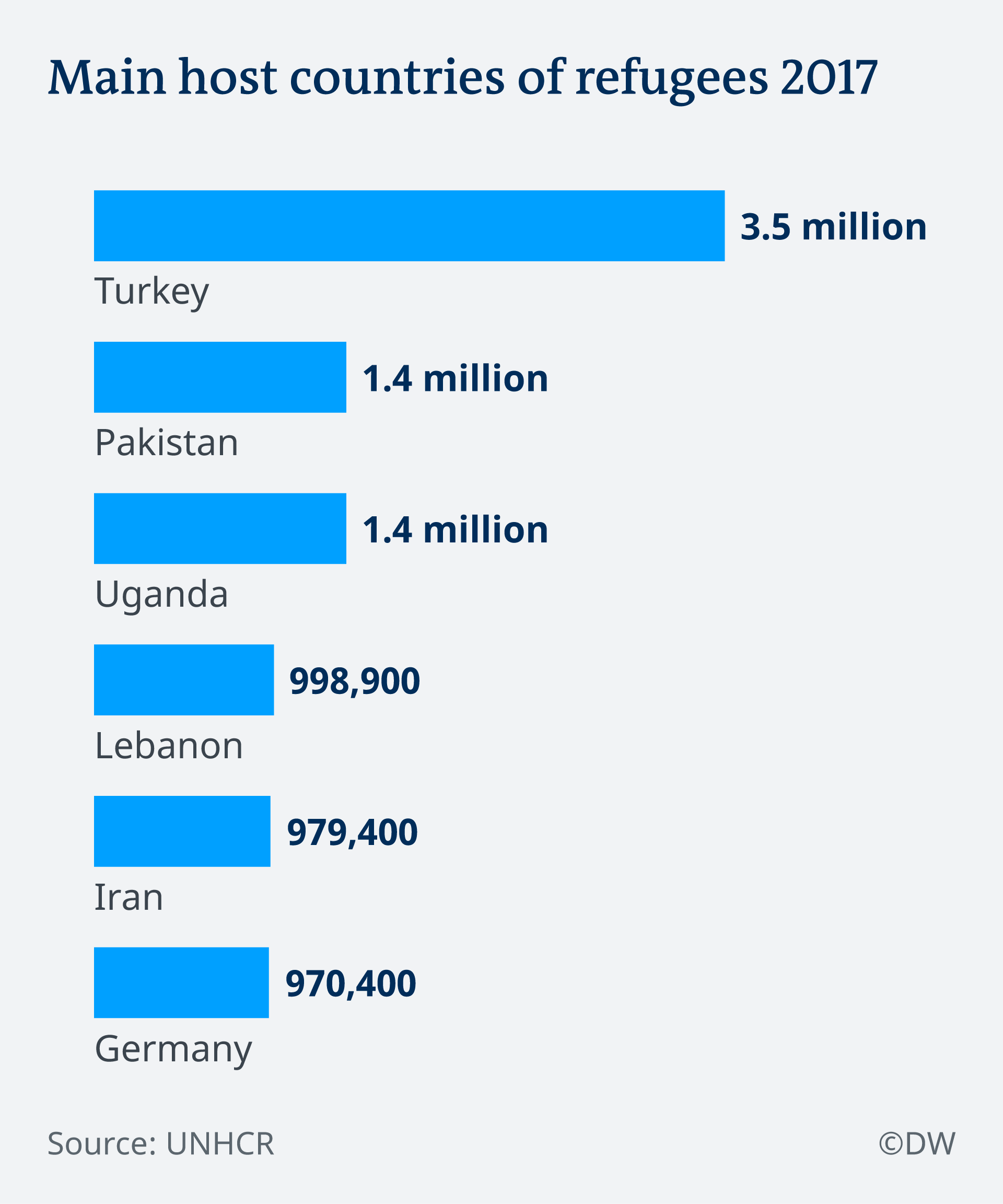 More support needed from outside
All this needs to be paid for. In October, Uganda requested more support from the international community to help it cope with the flood of refugees coming in. Uganda should not be obliged to borrow money for this purpose but feels forced to do so if there is no support from outside, said parliamentary spokesperson Rebecca Kadaga during a meeting with the World Bank's new country manager for Uganda, Tony Thompson.
If financial aid is withheld, the state has to dig deep into its own almost empty pockets. UNHCR's Khan sees an obligation here for the international community and says it is not enough to give money and support to refugees but exclude the local population from the measures implemented.
"Therefore, we are pursuing the 30/70 principle," Khan said. This means that 30 percent of all measures invested in must also benefit the local population.
"This is to stabilize the harmonic coexistence between the local and the refugee population," Khan emphasized. When Ugandans are also involved, a stable and well-functioning community can evolve — and emergency measures can become progressive refugee policy.
Read more: Uganda's' super beans' - an answer to food insecurity?
Contributing to the economy
"We cannot continue seeing refugees as a burden who are dependent on the generosity of the state," Khan said.
If refugees are allowed to work, they can contribute to the host country's economy. Northern Uganda is a good example. Local farmers there share their land with refugees, land that would otherwise remain unattended. The refugees cultivate it, take what they need for themselves and sell the rest. Half of the profits goes to the farmers.
A 2017 study by the United Nations Development Program (UNDP) found refugees place an additional burden on Uganda's national budget of $323 million (€283 million) annually. The reason: Not enough support from other states, says Jennifer Bose who works for Care International, an aid organization advocating for women and children.
"For Uganda we planned $3 million for urgent assistance but so far we have only received $763,000. That is only 25 percent of what we need to do our job," she said.
In a Refugee Response Plan, different aid organizations jointly note the amount of financial support they need to carry out their work effectively. For Uganda the figure is $947 million, if the government is to be able to continue with its refugee policy.
International organizations like the UN and Care International support the Refugee Response Plan. "But the refugee program is critically underfinanced. So far only 41 percent of the money needed for the the Refugee Response Plan in Uganda has been paid," Khan said.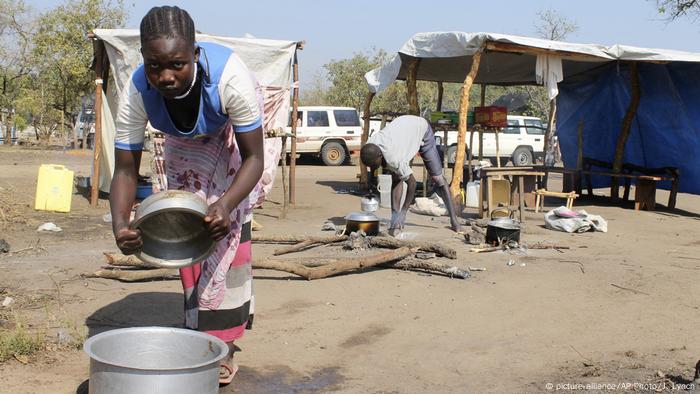 Water, material and health care services for refugees are still in short supply
Forgotten crises
It becomes a major problem if the money does not come at all. In February this year, the British government suspended its support worth several million dollars — in response to the abuse of financial support for Uganda. Apparently, many refugees were registered several times. To prevent this in future, data will now be registered biometrically.
Despite this abuse, Khan is critical of the British government's decision to cut its aid.
"This is deadly," she said. The consequences are felt by the people in need, especially children who make up more than 60 percent of the total number of refugees in Uganda. A lack of housing, poor health care and insufficient sanitary installations are the consequences.
Khan explains: "If no help is coming, people start turning to bad contacts. What happens then is what you see on the Mediterranean between Africa and Europe."
The situation in Tanzania and Ethiopia is similar. UNHCR confirms that Ethiopia had taken in 892,555 refugees by the end of 2017, most of them from South Sudan, Somalia, Eritrea and Sudan. After Uganda, Ethiopia is the second largest host country for refugees in Africa.
Jennifer Bose of Care International was there in early November.
"In Ethiopia one million people from the south fled to surrounding regions and lost their home, family and livelihood. Therefore, also internally displaced people require help in their own country, in camps and on the spot. That includes water, sanitary installations and relief supplies. Of the required five million US dollars, only 1.3 million have been financed so far," she told DW.
The problem today, she says, is the sheer number of crises in the world.
"It becomes difficult to catch the world's attention so they might focus on one specific problematic situation. Especially when it comes to long lasting crises, we speak of forgotten crises."
They attract less and less attention and eventually go unnoticed by the international community, Bose said.