The surface of the vast Lake Albert is as smooth as a mirror. Waves gently lap against the shore. Lake Albert lies along the border between eastern Democratic Republic of Congo (DRC) and Uganda. Every day up to 500 people come by boat to the landing stage at Sebaguru on the Ugandan side of the lake, which measures 5,300 square kilometers (2,046 square miles). Escaping across the water is dangerous. Many boats are overloaded, there are often high waves and most of the refugees cannot swim.
Uganda's government and the UN High Commissioner for Refugees (UNHCR) have set up tents on the beach of Sebaguru to take care of those arriving.The UNHCR's Daniel Tam says that most of the refugees are women and children. "Most of them are traumatized by what they have seen or experienced."
Read More: UN warns situation in DR Congo reaching 'breaking point'
Uganda's border police have to turn out regularly to rescue refugees. Last week, a boat capsized. It was overloaded, with one family having brought along their 27 cows. "The cows all drowned, but luckily the five people were rescued," Tam said.
In the last few days it hasn't only been women and children arriving but also many young men. This is unusual as they are mostly recruited by militias or protect their villages in civil defense units. One of these young men is Ate-Joel Piddu. He's 35 years old, works as a trader in his home village and helps out with the local church. Like most of the refugees, he belongs to the Hema ethnic group. He comes from the fishing village of Joo on the Congolese side of the lake.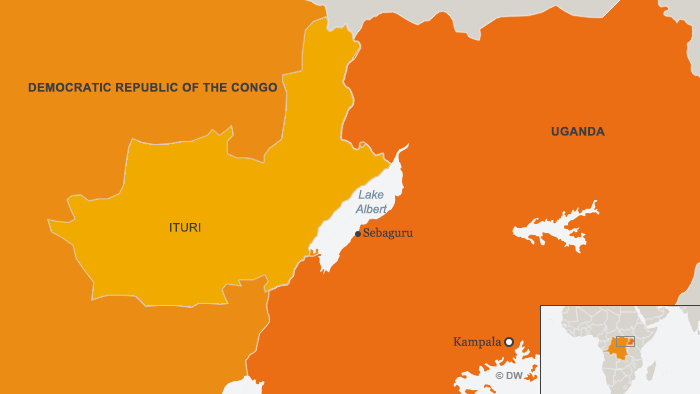 History repeating itself
Piddu says his village was attacked over a week ago. "We fled when a neighboring village was attacked. After we'd fled, our own village was attacked," he said, still clearly suffering from shock. The attackers belonged to the Lendu ethnic group. "It's just like before, when there was civil war. It's as if that time is being repeated," Piddu said.
The ethnic conflict over land and resources between the Lendu and the Hema cost more than 50,000 lives 15 years ago, before it was halted with international military intervention. Since then, the province of Ituri in eastern DRC has been considered relatively stable. But during the last two years, a political crisis has been escalating. President Joseph Kabila's term in office expired at the end of 2016. But since then he has refused to hold new elections. He justifies this with reference to regional instability, first in Kasai in southern DRC, now again in Ituri. Analysts suspect, as do many Congolese, that these local conflicts were deliberately fanned in order to keep the president in power.
Chaos and cholera
The refugees are taken by bus from the landing stage on the banks of Lake Albert to a nearby camp at Kyangwali. For more than 15 years, Congolese nationals have been living in this gigantic settlement on the Ugandan side of the border. Most of them originally came from Ituri. But since the beginning of 2018, there have been more than 50,000 new arrivals and the camp is now bursting at the seams. There is chaos at the registration point.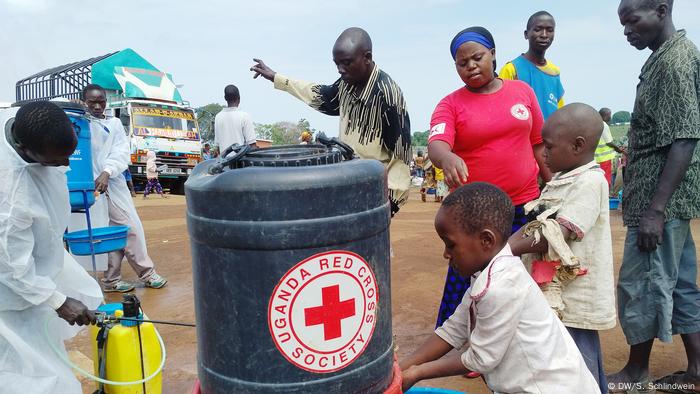 High priority is given to hygiene at the refugee camp
At the camp entrance, loudspeakers tell new arrivals to wash their hands. Shoes are also disinfected. The Ugandan Red Cross is doing its best to keep infectious diseases at bay. Children are inoculated and anyone sick is immediately taken to hospital by Doctors Without Borders. In recent weeks more than 30 refugees in Kangali have died of cholera, says Brian Atuyonza of the Ugandan Red Cross, and up to 1,000 are infected.
Humanitarian disaster
Uganda is currently looking after more than 1.4 million refugees. Previously, the majority were from South Sudan. But with the ongoing political crisis in DRC and the resulting humanitarian disaster, Uganda and the UNHCR expect more refugees every day. According to the latest UN report, 13.1 million people in DRC are in need of assistance. Some 670,000 have fled to neighboring countries while 4.5 million are living in DRC as internally displaced persons. These are all record figures for a country that should have moved on after decades of war.