As Malaysia celebrated its 61st Independence Day over the weekend, two young women in the country's northern state of Terengganu awaited a public caning.
Convicted of "sexual relations between women," after being seen "attempting to have sex" with each other in a parked car, the women, aged 22 and 32, were each struck six times with a rattan cane by female prison officers in a Shariah court on Monday. They were also fined 3,300 Malaysian ringgit (€686, $800). The religiously conservative state is ruled by the Islamist Pan-Malaysian Islamic Party (PAS).
Read more: Public canings - Shariah defines Indonesia's Aceh province
About 100 people witnessed the caning, which has prompted outrage from human rights activists throughout the Southeast Asian country and across the globe.
Contentious practice
Homosexual activities are illegal in Malaysia, but this was the first conviction for a same-sex relationship. It was also the first time a caning had been conducted in public.
Although such forms of corporal punishment have long been outlawed in most countries around the world, they are still a divisive issue in Muslim-majority Malaysia and the wider region. In neighboring Indonesia in 2017, two gay men were publicly caned in Aceh province after being found having sex. They received 83 lashings each.
Malaysia operates a dual-track legal system, consisting of both Islamic and civil courts. Islamic courts deal with religious and family matters of the nation's Muslims, who account for nearly two-thirds of Malaysia's 31 million people.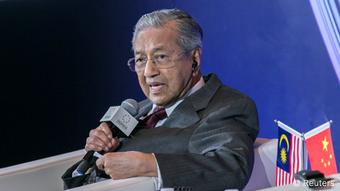 'This gives a bad image of Islam and we believe that if there are similar cases like this we need to consider giving lighter punishments,' said Mahathir
While the caning of women is banned under civil law, it is permitted under Islamic law in some states.
The presiding judge, Amarul Azmi, said that the punishment was intended "to educate and make offenders realize their mistakes and return to the right path."
But George Varughese, president of the Malaysian Bar, described the punishment as "barbaric," and said it had "no place in a modern and compassionate society such as ours."
Malaysian Prime Minister Mahathir Mohamad has also criticized the public caning of the women, saying on Thursday that his Cabinet felt it "does not reflect justice and tolerance in Islam."
"This gives a bad image of Islam and we believe that if there are similar cases like this we need to consider giving lighter punishments," he said. "It is crucial we show Islam is not a cruel religion... that humiliates people."
Read more: Malaysia criminalizes child grooming, not child marriage
New government under fire
Despite the country's political transformation in July, which saw the 61-year rule of the then governing party brought to an end, little has changed for marginalized groups in Malaysia.
In the wake of Monday's caning, human rights defenders have spoken out against the new administration for failing to protect the rights of lesbian, gay, bisexual, trans, intersex and queer people (LGBTIQ), and for allowing the punishment, which was described as "a form of torture" by Amnesty International's Malaysia executive director, Gwen Lee.
Punishing people for engaging in a "consensual relationship" sends "Malaysia back to the dark ages," Lee told reporters.
One member of parliament from the Malaysian state of Selangor called on the new government to immediately repeal all laws that criminalize homosexuality, saying Malaysia needed to "grow up as a society."
The Malaysian LGBTIQ legal support group Justice for Sisters (JFS) said the public nature of the caning was symbolic of "the state's complicity in inciting public participation in violence" and "the normalizing of violence as a form of education."
Though the caning — which was reported to be more like a "forceful tap" by a local Malaysian newspaper — may not have lasting physical impacts, JFS emphasized that the resulting "humiliation" and "psychological and emotional impact" were forms of violence in and of themselves.
The women's failure to appeal their sentence — which they had 14 days to do so — prompted some commentators, such as prominent Malaysian Muslim lawyer Siti Kasim, to suggest that the women accepted their wrongdoing.
"If they themselves believe they deserve to be punished in this manner, well, I don't think we should interfere," she wrote on her public Facebook page.
But Thilaga Sulathireh, JFS's founder, pointed out that this assessment did not take into account the fact that neither of the women — who initially pleaded not guilty in July — had legal representation.
"Finding a Shariah lawyer for LGBT-related cases is extremely challenging," she told DW. "They're also often dealing with a lack of family support, social stigma and the emotional stress that comes with a situation like this."
"The general narrative from the state is that LGBT people can be changed and 'return to the right path.'"
Homophobic act didn't occur 'in a vacuum'
Rights activists, including Sulathireh, say the caning was preceded by an alarming rise in anti-LGBT sentiment throughout Malaysia.
Last month, a transgender woman was violently assaulted in the state of Negeri Sembilan by a gang of eight men.
Earlier in the year, the minister of youth and sports resigned shortly after accepting the new position after he was abused on social media over his sexuality. This came after leading Malaysian newspaper Sinar Harian published an article detailing "how to spot a gay."
"The caning hasn't come out of a vacuum," Sulathireh told DW. "It's part of an ongoing trend of anti-LGBT activity and rhetoric."