Jose Luis Rodriguez Zapatero withdrew from a UN-backed meeting with Kagame on Friday after complaints from human rights campaigners.
"The prime minister yesterday received a petition from various political groups saying that they didn't think it was appropriate for the meeting to take place," Vice President Maria Teresa Fernandez de la Vega said on Spanish public television station TVE on Friday.
The Friday meeting was the first to be held by experts to supervise the UN's Millennium Development Goals (MDGs), aimed at halving global extreme poverty by 2015. Kagame and Zapatero are the co-chairs of the group.
The Spanish judiciary accuses Kagame of a reign of terror during the 1990s in Rwanda. At least 800,000 people, mostly from the Tutsi minority were killed by Hutu extremist militias and government troops.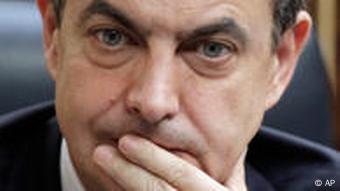 Zapatero didn't think it was "appropriate" to meet Kagame
In 2008 Spain's High Court announced its intention to prosecute 40 Rwandan army officers for genocide, crimes against humanity and terrorism related to events that took place between 1994 and 2000, including under Kagame's rule.
The Rwandan officers are accused, among other things, of murdering nine Spanish missionaries and expatriates allegedly witnesses to massacres.
No indictment was issued, however, because Kagame had immunity as a head of state.
Spain's "internal politics"
De la Vega said that a request had been made by several Spanish political groups for Zapatero not to attend.
In New York on Friday, a UN spokesman said that "the government of Spain had been fully informed of the choice of President Kagame as one of the co-facilitators."
But Rwandan officials played down the significance of Zapatero's decision to withdraw from the meeting with Kagame.
"It is not a big deal for us. It is Spain's internal politics," Rwandan Foreign Minister Louise Mushikiwabo told reporters on the sidelines of the gathering.
"We would like the Spanish people to get to know Rwanda's President Kagame better. He is not what we see him portrayed as."
Spanish Foreign Minister Miguel Angel Moratinos took Zapatero's place at the meeting, also attended by UN Secretary-General Ban Ki-moon who met Zapatero separately.
Ban "expressed his concerns" that the recent murder of opposition official Andre Kagwa Rwisereka and journalist Jean Leonard Rugambage has "caused political tensions" in Rwanda ahead of August 9 presidential elections, his spokeswoman said.
The venue for the meeting was moved from the seat of government, Moncloa Palace, to a hotel.
Richard Connor (Reuters/AFP/dpa)
Editor: Sonia Phalnikar