President Barack Obama's seven-hour visit to Afghanistan was intended for the signing of a strategic partnership on future US-Afghan ties beyond 2014, White House officials said.
Obama and Afghan President Hamid Karzai signed the long-term agreement, which reportedly outlines American military and financial support for Afghanistan beyond 2014, when NATO forces are due to end their combat mission. Full details of the deal have not yet emerged.
Shortly afterwards Obama delivered a televised speech from the Bagram airbase to Americans during their evening prime time, saying that they could see "the light of a new day on the horizon."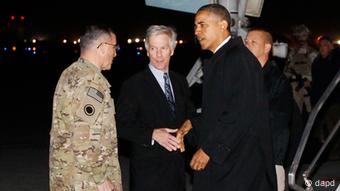 Obama's visit comes one year after Osama bin Laden was killed in neighboring Pakistan
"Our goal is to destroy al Qaeda, and we are on a path to do exactly that," he said. "I will not keep Americans in harm's way a single day longer than is absolutely required for our national security. But we must finish the job we started in Afghanistan, and end this war responsibly."
Obama also spent time with US troops at Bagram before he left for Washington on Wednesday. After the president had departed, a series of explosions followed by shooting took place in Kabul.
A spokesman for the Afghan Taliban claimed responsibility for the attack. Afghan government officials said at least six died in the blasts.
Bin Laden death anniversary
Media traveling on Air Force One for the 13-hour flight had agreed to keep Obama's arrival secret until he had safely transited Bagram Air Field to arrive by helicopter in Kabul, a route where Taliban insurgents still launch lethal attacks.
US aides traveling with Obama denied that the focus of his trip was the anniversary of the killing of al Qaeda chief Osama bin Laden in neighboring Pakistan.
Obama has been touting bin Laden's death as his campaign for re-election in November against presumed Republican challenger Mitt Romney heats up.
Wrangle ahead of NATO's Chicago summit
Negotiations had dragged on for months as Afghan officials demanded assurances ahead of a NATO conference in Chicago later this month.
Two key Afghan demands were that the management of US-run military prisons inside Afghanistan be taken over by Afghan officials, and that controversial US night raids be led in future by Afghan special forces.
Beyond 2014, US officials had reportedly contemplated a residual force of 20,000, many in support roles to Afghan government forces, with some US special forces for counterterrorism missions.
The US currently has 88,000 troops in Afghanistan as part of a multinational NATO-led deployment that includes German troops in northern regions.
ipj, acb/ccp (AP, AFP, dpa, Reuters)